ArtsFest 2015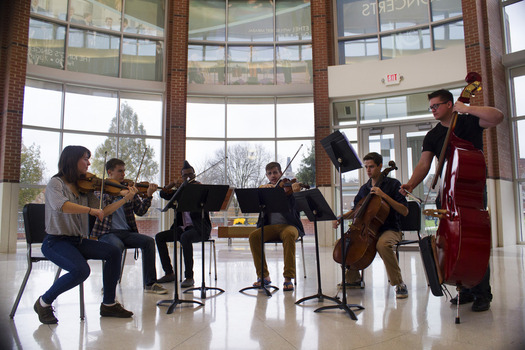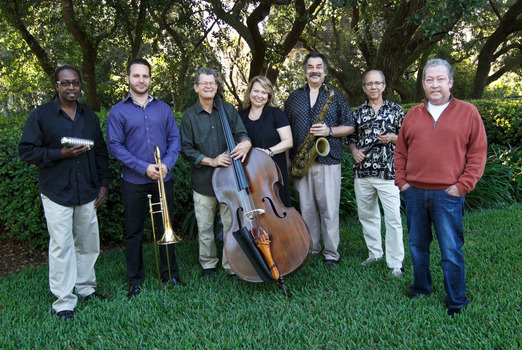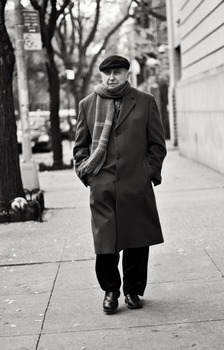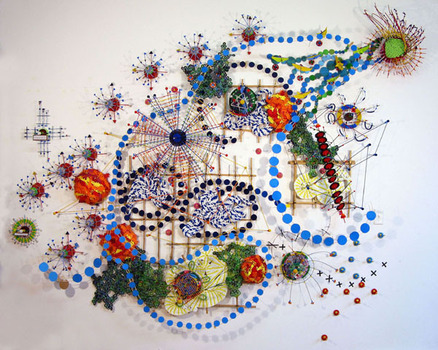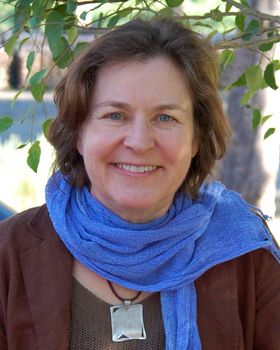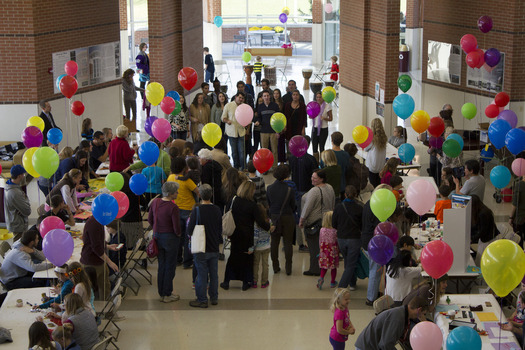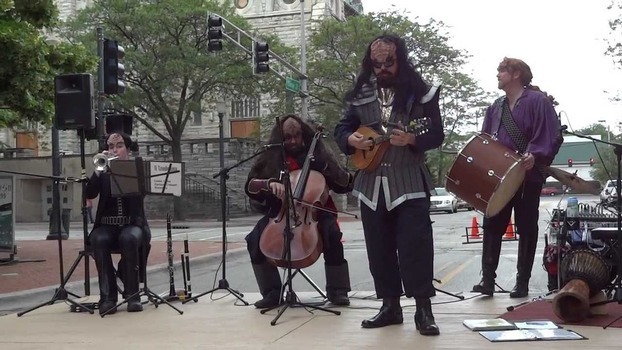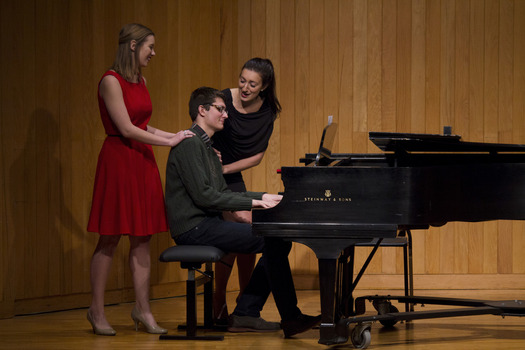 Art & Transformation
ArtsFest is a gathering of writers, artists, thinkers and performers. This 14th annual celebration showcases the creative and performing arts and talents of members of the DePauw and Greencastle communities and visiting artists.
What do we mean when we say art and transformation? Isn't all art supposed to be 'transformative,' to bring us spiritually, intellectually and emotionally to another place? We encounter art, and on the other side of that encounter, we emerge transformed. We view the world, and ourselves, differently.
Art is supposed to change us, yes.
But art is also itself an act of transformation. The transformer must be first transformed. The artist must change a raw medium—stone, words, notes, paint, bodies—into something new: the expression of the artist's vision. Stone becomes sculpture, notes become music, bodies become dance. Art changes us, yes, but we also change art. We create and we interpret, and both acts are transformative.
And recursive. We also make and interpret the art of transformation. We make stories about how we make stories. We paint images of metamorphoses. We act out our own transformations.
Our visions are visions of change.
Wednesday, Oct. 28

10:20 a.m.
GCPA, Thompson Recital Hall

Student Recital Hour

7:30 p.m.
Peeler Art Center, auditorium

Kelly Writers Series: Karen Joy Fowler

Fowler is the author of four story collections and seven novels, including We Are All Completely Beside Ourselves, shortlisted for the 2014 Man Booker Prize and winner of the PEN/Faulkner Award. The Jane Austen Book Club, a New York Times Notable Book, spent 13 weeks on the Times bestsellers list.

Thursday, Oct. 29

11:40 a.m.

Aesthetics Panel with Amity Reading, John Berry and Andy Cullison

4:15 p.m.
Peeler Art Center, auditorium

Lecture with artist Nathalie Miebach

Nathalie Miebach's work focuses on the intersection of art and science and the visual articulation of scientific observations. Using the methodologies and processes of both disciplines, she translates scientific data related to astronomy, ecology and meteorology into woven sculptures. Her method of translation is principally that of weaving – in particular basket weaving – as it provides her with a simple yet highly effective grid through which to interpret data in three-dimensional space.

8 p.m.
Inn at DePauw

Jazz at the Duck

Saturday, Oct. 31

8 p.m.
Inn at DePauw, Social Center

Performing Arts Series: Il Troubadore Klingon Music Project

Composer and cellist Jon Silpayamanant '96 is joined on stage by percussionists, mandolin and various wind instruments, as well as a belly dancer or two, performing "Klingon Opera." The evening's entertainment also features opening act the Bootleg String Ensemble, a DePauw student group who play highly charged chamber music arrangements of classic Rock and Pop songs. Attendees are encouraged to come in costume.

Sunday, Nov. 1

12:30 - 2:30 p.m.
GCPA, Great Hall

Art Attack for Children

An afternoon of hands-on art activities for children as well as special performances including singer-songwriter Bobbie Lancaster.

3 p.m.
GCPA, Kresge Auditorium

DePauw University Orchestra
Orcenith Smith, conductor

The great Germanic tone poem "Death and Transfiguration" by Richard Strauss is the featured music on this orchestral program, which also includes "Javelin," a minimalist work by American composer Michael Torke written for the 1996 Atlanta Olympics. While Torke's piece shows how minimal musical gesture unfolds from the tiniest seed to reveal a magnificent musical theme, Strauss's music reveals an emotion-filled story of a man's life through its transfiguration to a soul in the afterlife.

4 p.m.

Peeler Art Center, auditorium

Feminist Disruptions and Enhanced Subjectvities: Women Graffiti Artists' Transformation of the Chilean Urban Landscape

Professor Latorre (The Ohio State University, Dept. of Women's, Gender and Sexuality Studies) will lecture on feminist graffiti artists and urban muralists post-dictatorship Chile.

MonDAY, NOV. 2

4:15 p.m.
Peeler Art Center, auditorium

Creating a Potter's Paradise: Ceramics and Cultural Production in Modern Japan

Join Professor Meghen Jones for a talk that will explore the historical, cultural, and ideological factors making ceramics a universally recognized and prized form of creative expression in Japan.

7:30 p.m.
GCPA, Thompson Recital Hall

The Transformation of Little Women
with Communication and Theatre Professor Tim Good

Tuesday, Nov. 3

11:40 a.m.
Peeler Art Center,
University Gallery

Highlights from the Permanent Art Collection,
curated by Taylor Zartman '15, reception

Zartman will speak briefly about artworks she recently curated from the DePauw University Permanent Art Collection in conjunction with ArtsFest. Snacks provided.

7:30 p.m.
GCPA, Moore Theatre

Performing Arts Series: Actors From the London Stage performing A Midsummer Night's Dream


Wednesday, Nov. 4

10:20am
GCPA, Thompson Recital Hall

Student Recital Hour
coordinated by Patrick Rutledge '16

11:30
GCPA, Thompson Recital Hall

Lecture Demonstration with pianist Seymour Bernstein

11:30 a.m.
Memorial Student Union Building, ballroom

Research Faculty Forum: Eric Edberg "Personal Transformation and Free Improvisation"

6 p.m.
Almost Home,
17 W. Franklin

ArtMusic@Almost Home
Live music performed by students from the School of Music.

7 p.m.
Ashley Square Cinemas

Film Studies Film Series screens Seymour: An Introduction

The 2014 documentary by Ethan Hawke, Seymour: An Introduction introduces us to Seymour Bernstein, a virtuoso pianist, veteran New Yorker, and true original who gave up a successful concert career to teach music. It's an engaging exploration of the creation of both art and a rewarding life. Co-sponsored by the DePauw School of Music.

8:30 p.m.
Emison Lobby

Seymour Bernstein Post-Film Forum

Following Seymour: An Introduction, Film Studies and the School of Music will host a post-film forum led by James Stewart '73 featuring Seymour Bernstein. Co-sponsored by the DePauw School of Music.

Thursday, Nov. 5

11:30 a.m.
GCPA, Thompson Recital Hall

Lessons Learned Through Jazz with Judson Green '74

In addition to his evening concert with Eighth Element, this is an exceptional opportunity to meet with Judson Green in this open workshop using jazz as a platform to entertain and teach lessons on leadership, creativity and change.

4 p.m.

Artist Marc Swanson

7:30 p.m.
GCPA, Kresge Auditorium

Green Guest Artist Concert: Judson Green and Eighth Element

An impressive talent as a composer, pianist and 21st-century musician, Judson Green '74 infuses his love for music in a jazz-inspired concert of his original compositions.

General admission: $10 in advance, $15 day of event
Tickets for seniors, children and all students are free.
Purchase Tickets

Friday, Nov. 6

11:40 a.m.
Peeler Art Center, upper gallery

Yaakov Israel: A Lunch and Lecture with Professor Cindy O'Dell and Rabbi Mark Covitz

Join Cindy O'Dell, professor of art and art history, and Rabbi Mark Covitz, Jewish Life Coordinator, for a discussion centered on the artistic as well as the spiritual qualities found in Yaakov Israel's photographs. Snacks provided.

4 p.m.
PCCM, Watson Forum

The Media Fellow Program presents "Transformation in the Contemporary Entertainment Business" with Writers David '73 and Julie Chambers

David and Julie Chambers will discuss aspects of transformation in the television, film and book industry. Not only will they tackle the issues of structural changes in the industries themselves and how those changes affect the work of writers and producers, but also the ways in which entertainments industries help transform society and the ways that society transforms the industry.

6-8 p.m.
Music on the Square

First Friday

Saturday, Nov. 7

6:30-9:30 p.m.
Reese Hall Lobby

Soups and Sounds
Sponsored by the Union Board

Sunday, Nov. 8

3 p.m.
Music on the Square

DePauw University Choirs