Faculty & Students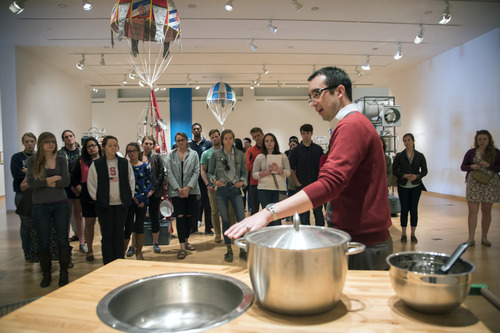 Bringing Your Class
For group tours or visits, please contact Assistant Curator of Exhibitions and Education Alexandra Chamberlain at 765-658-4884 or alexandrachamberlain@depauw.edu. Advance notice of at least one week is appreciated for planning purposes.
Access to Collections
Students and faculty are encouraged to utilize the collections at DePauw for teaching and research purposes. As a result, access to collections is a top priority and will result in the following changes over the next few years:
Migration to a new collections database system to speed inventory and access to collections
The addition of new records to the CONTENTdm online database for students and faculty. As of 2015, less than 5% of the collection is cataloged online for student and faculty use.
Teaching Spaces and Resources
Several spaces exist for students and faculty to incorporate object-based learning into their assignments and classrooms teaching:
Galleries at Peeler
Galleries at Emison
Print Education Room at Peeler
African Object Classroom in Emison
Collections Storage rooms
Object Cart for classroom use
Please contact Alexandra Chamberlain if you would like more information about tours, access to collections, or teaching resources.