The Spring Spectacle of Shakespeare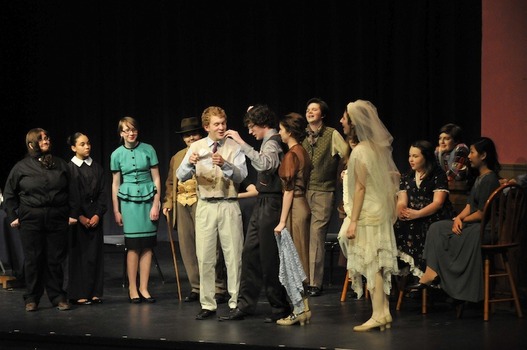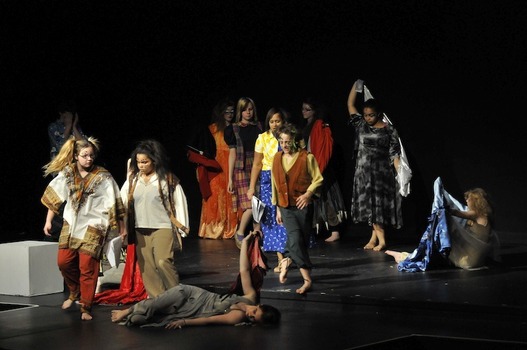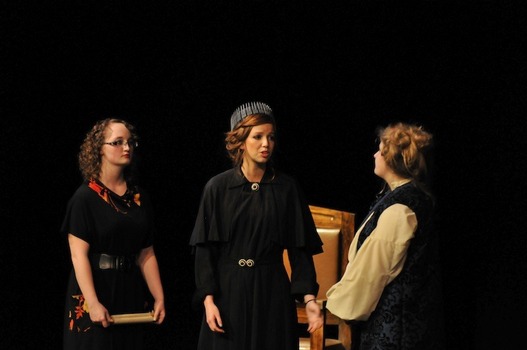 Saturday, May 7, 2016
Moore Theatre, GCPA

2 p.m., 4 p.m., 6 p.m., and 8 p.m.

Purchase Tickets
2016
WHAT IS IT?
The Spring Spectacle is a twelve-week collaboration between Shakespeare & Company, DePauw University, and all eight Putnam County middle and high schools. In part, this Spring Spectacle is inspired by and created in collaboration with our friends and colleagues at Shakespeare & Company in Lenox, MA.
WHY SHAKESPEARE?
Shakespeare's plays provide a unique opportunity for artistic exploration and expression. No other material offers the wealth of powerful, beautiful, playful and expressive language that Shakespeare does. And it's a lot of fun!
WHAT'S IT ALL ABOUT?
The Spring Spectacle of Shakespeare is About Collaboration. University theater artists from DePauw work in collaboration with students and school personnel to create a 90-minute production of a Shakespeare play.
The Spring Spectacle of Shakespeare is About Language. Language is at the heart of Shakespeare & Company's approach to performing Shakespeare. Shakespeare's language is the ideal script to place in the hands of young people. It gives them words, which powerfully and accurately articulate their own experience, while giving them the means to explore and reveal what it means to be human.
The Spring Spectacle of Shakespeare is about Student Achievement. Under the direction of DePauw University student directors and production staff, students are the actors, stage managers, technical crews and publicity crews – the "Company" – for their productions.
The Spring Spectacle of Shakespeare is about Celebration. After a ten-week rehearsal process, students will perform their play at their school, for their family, friends and the school community. Then they will join the other Spectacle schools for a full day Spectacle at DePauw on the Moore Theatre Main Stage at DePauw.
The Spring Spectacle of Shakespeare is not about Competition. Students from all of the participating schools come together to share their plays with each another. There is no judging or awards. It is about young artists celebrating each other's work.
The Spring Spectacle of Shakespeare is about Inter-scholastic Community. Students rarely have the opportunity to meet students from different schools without the context of competition. The Spring Spectacle gives students the opportunity to gather and share their creative work, meet new people and make new friends.
In Their Own Words
"The moments that are most meaningful to me are the ones that prove how much we as a group trust each other. The bond we grow with new students, directors and other schools helps show how incredible we can be."--Madeline, 8th grade, Greencastle Middle School
"I found it meaningful that the directors said they would find a spot for anyone who wanted to participate because that made me feel like they were excited and thrilled for all of us to join the play no matter what."--Wednesday, 11th grade, North Putnam High School
"I was delighted to see that children are still curious about literature. As a future educator, it makes me happy to see students having fun reading and interpreting Shakespeare for themselves, and not just being given all the answers."--Shavon Mathus, DePauw Class of 2014
Part of the DePauw Curriculum
Based on the educational wing of Shakespeare & Company's nationally renowned and recommended high school Shakespeare program, the course (COMM 291/402 and UNIV 390B) prepares DePauw students to do Shakespeare with local high school and middle school students. Part classroom activity and part in-school practicum, the course stresses the visceral, emotional and intellectual power of experiencing Shakespeare's language physically and vocally. It culminates in a festival of Shakespeare's plays performed by local students at DePauw at the end of the semester.