Bonnie Skrenta
Title:

Head Softball Coach
Date of Hire:

2002
Degrees:

B.A., Providence College (2000) M.S., Smith College (2002)
Other Contact Information:

765-658-4967 (office)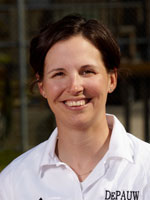 Bonnie Skrenta is in her 10th season as head softball coach at DePauw University and has directed Tiger teams to a 251-115-2 record in her first nine seasons including 212-50-1 over the last six years.
She led the Tigers to increasing win totals in each of her first six seasons including a school-record 40 with only four losses in 2008. The Tigers captured their first Southern Collegiate Athletic Conference title that year and followed it up with another championship in 2009 and 2011.
DePauw has made five straight NCAA Division III Championship appearances and advanced to the NCAA finals in 2007, 2010 and 2011.
In 2007 Skrenta not only led DePauw to its first NCAA tournament appearance, but a first-round title as the Tigers went 4-0 to advance to the national finals. The Tigers finished fifth and set the school record with 37 wins against just four losses. Skrenta and assistant coach Clyde Spencer were named the regional coaching staff of the year.
She also directed DePauw to a school-record 40 wins in 2010 and to an NCAA fifth-place finish. For their efforts the Tigers' coaching staff was named the regional coaching staff of the year in 2010. The 2011 team also finished fifth at the NCAA Championship and, again, the coaching staff earned regional staff of the year honors.
In 2006, the Tigers established the school win record with a 31-10 record and a second-place finish at the Southern Collegiate Athletic Conference tournament.
Skrenta, a cum laude graduate of Providence College in 2000, earned a bachelor of arts degree in mathematics and minored in business studies. She also served as a softball captain for the Friars as a senior. In May 2002, she earned a master of science in exercise and sport studies from Smith College in Northampton, Mass.
While at Smith, Skrenta served as an assistant softball coach where she conducted on-field instruction and practice planning as well as organizing the team's travel and serving as the head coach during the fall season.
She also served as a Teacher Fellow at Smith in the department of exercise and sports studies. Skrenta also was a Coast Guard Academy Cadet in the United States Coast Guard from 1996-98. While there, she was named an ECAC Second Team New England Division III Softball All-Star and a third team all-region selection. She previously served as a head coach for the western region at the 2001 Bay State Games.
Skrenta is also a part-time instructor in kinesiology and serves as a regional chair on the NCAA Division III Softball Championship Regional Advisory Committee.
---