Tigers extend win streak to four with sweep of Hope
March 4, 2005
GAME ONE BOX | GAME TWO BOX | PHOTO GALLERY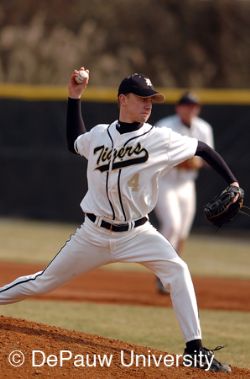 March 4, 2005, Greencastle, Ind. - DePauw improved to 4-2 on the season and extended its win streak to four with a doubleheader sweep of Hope at Walker Field. The Tigers won the first game, 6-3, and took the nightcap by a 9-4 count. DePauw improved to 4-2, while Hope dropped to 0-2.
DePauw scored two each in the first two innings and that would be all it would need in the first game. Greg DeBeer drove in Chris Newman with a single before Matt Deahl's grounder plated Ryan Sipe in the first. In the second, Sipe drove in John Younger and Kevin McAteer with a second-inning single.
Hope got on the board in the fourth on Bill Lutke's double which scored Mike VanderVelde and then added one more in the fifth when Brian Blanchard scored on a bases loaded error.
The Tigers scored two more in the fifth on Zach Harris' sacrifice fly which scored DeBeer and McAteer's rin-scoring single that brought home Deahl. George MacKenzie drove in Hope's final run in the seventh with a sacrifice fly that scored Jon Edmondson.
Younger, Sipe and McAteer each collected two of DePauw's 10 hits, while Sipe drove in a pair. Vance Nardin and Lutke each had two of Hope's eight hits.
Mark Alson picked up the win with five innings or work that included just one earned run and six hits. Andrew Vlasak suffered the loss for Hope.
The Flying Dutchmen jumped out to a 1-0 lead in the nightcap when VanderVelde singled home MacKenzie in the first, but Sipe put DePauw ahead with a two-run homer to right in the bottom half of the inning.
In the third, VanderVelde knotted the score at 2-2 on with a double that scored Danny Keough. The Tigers regained the lead in the bottom half of the inning when DeBeer drove in Younger with a double to left center.
Chris Newman ripped a bases-loaded double in the fifth which scored pinch-runner Luther Selby and Adrian Norris before Sipe drove in Younger and Newman with a single through the right side. DeBeer then singled to score Sipe to give DePauw an 8-2 lead.
Hope added two in the sixth on Edmondson's sacrifice fly and Drew Bedan's single before the Tigers closed out the scoring in the bottom of the sixth with Sipe's RBI single.
Sipe and DeBeer each collected three of DePauw's 10 hits with Newman adding a pair. Sipe finished with five RBI with Newman and DeBeer each totaling two. VanderVelde picked up two of the Flying Dutchmen's seven hits and drove in two runs.
Bill Metzinger improved to 2-0 on the season by allowing just two runs and four hits in five innings, while Paul Rodenhouse notched his first save by retiring all four batters he faced. Bruce Lund suffered the loss for Hope.
Sipe went five-for-seven in the twinbill with seven RBI, while DeBeer was four-for-six.
DePauw host Benedictine in a noon single game on Saturday.
Back