DePauw wins fifth straight after 6-1 victory over Benedictine
March 5, 2005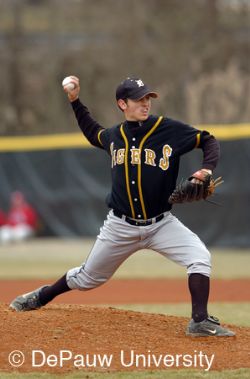 March 5, 2005, Greencastle, Ind. - DePauw improved to 5-2 on the season with its fifth straight victory- a 6-1 win over Benedictine. The Eagles dropped to 0-1 after their season opener.
P.J. Mitchell improved to 1-1 on the season as he went seven innings and allowed just one unearned run while striking out seven and not allowing a walk. John Kihlken finished the game with two innings of scoreless relief. Pat Murphy suffered the loss for Benedictine.
Benedictine scored an unearned run in the third before the Tigers took the lead in the fourth with a pair. Greg DeBeer was hit by a pitch to lead off the inning and moved to second on Matt Deahl's single. Adrian Norris advanced them with a bunt and Zach Harris drove in DeBeer with a sacrifice fly. Matt Kleine then doubled to score Deahl.
DePauw put the contest away with four in the seventh as John Younger led off with a double, Chris Newman walked and Ryan Sipe singled to load the bases. Younger then scored on a wild pitch before DeBeer singled to score Newman. Deahl laid down a bunt which scored Sipe and Kleine added a sacrifice fly that plated DeBeer.
Newman, DeBeer, Deahl and Norris each had two of DePauw's 12 hits. Brett Flood led the Eagles with three hits with Matt Evans adding a pair.
The Tigers return to action on Sunday with a noon doubleheader against Blackburn at Walker Field.
Back