DePauw Sweeps Sewanee in SCAC Baseball Play
April 10, 2010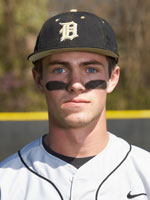 April 10, 2010, Greencastle, Ind. — DePauw improved to 18-13 overall and 6-5 in Southern Collegiate Athletic Conference play following a doubleheader sweep of visiting Sewanee. The Tigers won the first game, 19-1, and took the nightcap, 31-10.
The Tigers took an 8-0 lead in the opening three innings of the first game. Sewanee scored its lone run in the fourth before DePauw added five in the fourth and six in the sixth.
DePauw totaled 17 hits in the win with Ben Gardner and Rob McPike (pictured) totaling three each. Jason Cohen, Alex Wright, Sam Linette and Alex Jacques followed with two apiece. Taylor Hoffman, Jon Newman and Linette each homered for the Tigers with McPike and Jacques each driving in four. Alan Komorowski and Chris Mauro each had two of Sewanee's six hits.
Brad Gerlach improved to 2-1 with the win after allowing just one run and five hits in five innings. Greg Bartleski dropped to 2-5 with the loss.
In the nightcap, DePauw established school records with 31 runs and 32 hits, breaking the previous marks of 30 and 31, respectively.
The host Tigers jumped out to a 3-0 lead in the first before Sewanee scored six in the top of the second for a 6-3 lead. DePauw posted five runs each in the second and third innings to take a 13-6 advantage. Sewanee scored two each in the fourth and fifth innings, but DePauw added seven in the fourth, eight in the fifth and three in the sixth.
McPike paced the Tigers with five hits in six at-bats, while Cohen, Wright, Sam Swafford and Alex Berlyn each followed with four. Hoffman and Gardner each had three. McPike drove in five, while Wright had five RBI and Cohen four. McPike also scored five and finished the doubleheader with an 8-for-10 performance with nine RBI.
Sewanee totaled 20 hits with Mauro totaling four including a pair of homers. Michael Joseph and Rascoe Dean each had three hits followed by Komorowski and Blake Williams with two apiece. Joseph homered in the loss as well and Mauro drove in four.
Andy Manson improved to 2-0 with the relief win as he allowed just two runs in 3 1/3 innings. Sewanee starter Wilson Nealy dropped to 1-4 with the loss.
The teams square off in a 1 p.m. single game on Sunday.
Follow DePauw Athletics on Twitter | Become a Fan of DePauw Athletics on Facebook
Back