DePauw Rallies for Win over Millsaps; Advances in SCAC Baseball Winner's Bracket
April 23, 2010
April 23, 2010, Memphis, Tenn. — DePauw rallied from a 4-0 deficit and scored seven unanswered runs in the fifth through seventh innings on the way to a 9-6 win over Millsaps in the Southern Collegiate Athletic Conference Baseball Tournament. The game was moved from USA Stadium in Millington, Tenn., to Rhodes College due to forecasts of rain.
The Tigers improved to 23-15, while the Majors dropped to 25-14. DePauw takes on Trinity at Noon CDT tomorrow, while Millsaps faces Rhodes at 3:30 p.m. in a loser's bracket game. WGRE will carry the game live. Complete tournament information is available from the official site.
Millsaps took a 1-0 lead in the first when Jeremy Aliff led off with a double and scored on Jules Roussel's single. In the fourth, Jake Mills and Trey Rountree each singled and scored on Drew Leonard's triple. Leonard then crossed the plate on Aliff's single which gave the Majors a 4-0 lead.
DePauw's rally started in the fifth when Sam Swafford led off with a single, moved to second on Alex Berlyn's ground out. Ben Gardner delivered a two-out single which scored Swafford. Gardner then stole second and came home on Taylor Hoffman's base hit up the middle.
Jon Newman doubled to left center in the sixth and scored on Alex Wright's (above left) single to close the Majors' lead to 4-3. DePauw took the lead in the seventh with four runs. Berlyn led off with a single and moved to second on Alex Jacques' sacrifice bunt.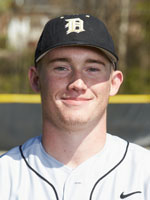 Gardner followed with a single and stole second allowing Berlyn to score and tie the game at 4-4. Hoffman tripled home Gardner before Jason Cohen's double brought home Hoffman. After Newman walked, Alex Wright singled through the left side bringing home Cohen and giving the Tigers a 7-4 lead.
The Majors scored one in the seventh as Roussel led off by being hit by a pitch and moving to second on Tyler Berry's infield single. Josh Ordeneaux then singled home Roussel.
Berlyn led off the DePauw eighth with a triple and Jacques followed with a double. Following Ben Gardner's single, Hoffman delivered a sacrifice fly which scored Jacques and gave DePauw a 9-5 lead.
Will Hawkins led off the Millsaps ninth with a single and moved to second on Ordeneaux's single.Wes Perkins flied out to right field in foul territory which allowed Hawkins to move to third. Mills then drove in Hawkins, but the game ended with the potential winning run at the plate.
DePauw totaled 17 hits with Wright finishing with four and Gardner adding three. Hoffman, Cohen and Berlyn each totaled two. Mills had four of Millsaps' 13 hits with Aliff and Ordeneaux each finishing with two.
Hobs Donovan (above right) improved to 4-1 and recorded a career-high 11 strikeouts with just one walk in 6 2/3 innings. Elliott Ross picked up his second save. Shelby Robertson dropped to 4-3.
Follow DePauw Athletics on Twitter | Become a Fan of DePauw Athletics on Facebook
Back