Fenlon receives award for 300th win at annual coaches convention
May 18, 2004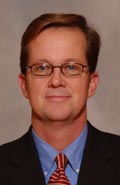 DePauw head men's basketball coach Bill Fenlon was among those recognized during the Awards Show at the annual National Association of Basketball Coaches 77th Annual Convention in San Antonio in April.
Fenlon was presented an award for earning his 300th career collegiate win which occurred on January 9 after a 78-70 win at Hendrix.
The Northwestern University graduate has served as a head coach for 19 seasons including three each at Sewanee and Rose-Hulman, one at Southwestern and the last 12 at DePauw. He is the Tigers' all-time winningest coach with a 201-109 record at DePauw.
Back