Oilar knocks down late three to knock out Little Giants
December 1, 2004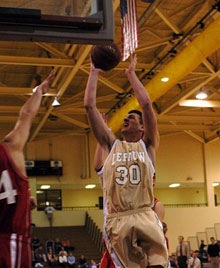 GREENCASTLE, Ind. - DePauw freshman Brian Oilar hit a three-pointer with 3.1 seconds left and Reid Sakel stole a Wabash pass with 1.3 seconds remaining to give DePauw a 63-60 victory over the visiting Little Giants. The Tigers improved to 3-2 with their seventh straight win in the series, while Wabash dropped to 2-3.
DePauw held a 56-50 lead after Steve Schott's put-back with 7:53 left, but the Little Giants scored the next eight beginning with Kyle Coffey's basket with 7:38 remaining. The two teams hit a scoring drought over the next 4:30 before Wabash's Kyle Medeiros hit a jumper with 3:08 remaining and Caleb Lyttle knotted the score at 56-56 on a basket with 2:06 left.
Gary Simkus' layup with 1:08 remaining gave Wabash a 58-56 lead, but Oilar came right back to tie the game with a layin with 54 seconds left. Wabash's Adonis Joseph missed a three-point attempt and the Little Giants fouled Alex Stewart with 20 seconds left. Stewart knocked down both free throws to put the Tigers ahead, 60-58.
Wabash tied the game with 10 seconds left as Joseph scored inside, but Oilar put the Tigers ahead for good with his jumper from the left wing. The Tigers had two fouls to give and they used one on the first inbounds play. Sakel then stole a pass with 1.3 seconds remaining and called timeout as he was falling out of bounds in front of the Wabash bench. Medeiros intercepted the inbounds pass and his heave as time expired was off the mark.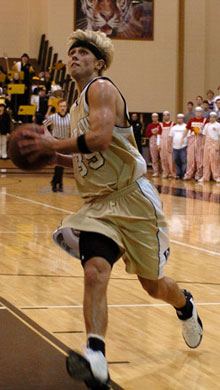 The game featured 10 ties and 11 lead changes with neither team able to gain more than a seven-point advantage. DePauw jumped out to a 7-2 lead and led by as many as six at 12-6. The Little Giants scored six straight to tie the score and eventually took a four-point lead with 1:17 left in the first half when Medeiros hit a three. Oilar countered with a three and Todd Capes put the Tigers ahead at 31-30 with a layup with 32 seconds left in the half. Lyttle's layup with three seconds left in the half gave the Little Giants the 32-31 halftime edge.
Wabash pushed the lead to seven at 46-39 with 14:33 left on Joseph's fourth three-pointer of the second half. The Tigers put together a 17-4 run over the next seven minutes to match their biggest lead of the game at 56-50.
Oilar posted a double-double in just his fifth collegiate game with 17 points and 10 rebounds. He added two blocks and knocked down three three-pointers. Sakel added 16 points and a game-high six assists and hit four threes. Schott followed with 13 points and eight rebounds. Joseph paced Wabash with 20 points with Medeiros adding 13. Lyttle, Matt Shook and Coffey each grabbed four rebounds, while Shook dished out five assists.
The team statistics were nearly identical with DePauw shooting 44.7 percent from the floor and Wabash hitting 43.6 percent. Each team grabbed 31 rebounds with Wabash finishing with 15 turnovers and six steals and the Tigers totaling 16 turnovers and seven steals.
DePauw returns to action on Saturday, December 4, when they host Maryville (Mo.) at 7 p.m. Wabash travels to Kenyon on Saturday for a 3 p.m. game on Saturday.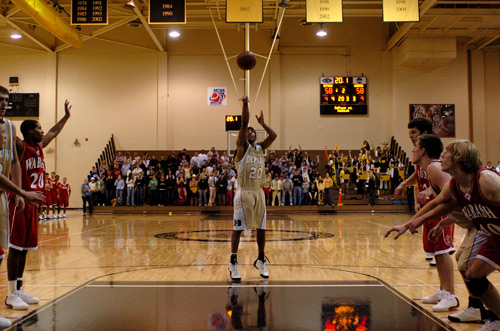 Back