DePauw Advances to Rokicki Title Game with Win over Presidents
November 28, 2009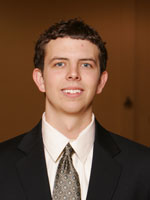 November 28, 2009, Greencastle, Ind. — Steve Lemasters knocked down a three-pointer with 1:13 left to extend DePauw's lead to five and the Tigers held on for a 76-68 win over visiting Washington & Jefferson in the opening game of the Mike Rokicki Community Versus Cancer Challenge.
DePauw (3-0) faces Wabash (2-2) in Sunday's 4 p.m. championship game as the Little Giants defeated Franklin by a 95-84 score in tonight's second game. Washington & Jefferson, which dropped to 2-3 with the loss, and Franklin square off at 2 p.m. in the third-place contest.
The Tigers never trailed in the game and took a 38-25 lead to the break after finishing the half with a 13-5 run. DePauw pushed the lead to as many as 15 in the opening minute of the second half before the Presidents eventually closed the gap to 50-45 with 11:34 left after an 8-0 run.
A 16-4 DePauw stretch gave the Tigers a 64-49 lead with just over six minutes remaining. DePauw still held a 68-60 advantage after Ryan Russell (pictured) knocked down a free throw with 2:35 left. The Presidents rattled off six straight to close the gap to 68-66, but Lemasters' three made it 71-66. Drew Wills scored the Tigers' final five points to seal the win.
Russell led five DePauw double-digit scorers with a career-best 13 points, while Sean Haseley added 12 and hit 10-of-11 from the free throw stripe. Lemasters followed with 11 with Tony James and Wills each scoring 10. James matched a career-high with eight assists and David Gray grabbed eight boards.
Brian Felker led the Presidents with 19 points, while Paul Matthews added 13 and Albert Varacallo scored 13. Varacallo and Felker each grabbed six boards.
DePauw shot 48 percent from the floor after hitting 56 percent in the first half, while Washington & Jefferson hit 46.7 percent including 54.2 percent in the second half. The Presidents held a 30-27 edge on the boards in the loss.
Follow DePauw Athletics on Twitter | Become a Fan of DePauw Athletics on Facebook
Back