DePauw Tops Southwestern for Fifth Straight Win
January 22, 2010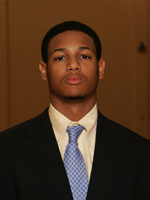 January 22, 2010, Greencastle, Ind. — DePauw led by as many as 21 in the second half, but had to survive a Southwestern rally and claim a 68-61 Southern Collegiate Athletic Conference victory over the visiting Pirates.
The Tigers improved to 13-4 overall and 6-2 in the conference with their fifth straight win, while the Pirates dropped to 12-5 overall and 5-3 in the SCAC. The victory was DePauw's 19th straight at the Neal Fieldhouse.
DePauw never trailed and built as much as an 18-point lead on the way to a 43-25 halftime advantage. That lead quickly reached 21 at 49-28 with 15:36 left.
The lead remained in double digits until the Pirates' Nick Caputo hit a three with 6:07 remaining which trimmed the lead to 60-51. Zach Bergstrom hit one of two free throws with 3:56 left to close the gap to 61-57, but DePauw's Tony James responded with a three to push it back to seven.
DePauw connected on just 4-of-12 from the line in the final two minutes, but Southwestern missed all six field goal tries during that time.
James (pictured) led the Tigers with a career-high 17 points and three assists, while Sean Haseley followed with 13. Tommy Weakley added 12 and Steve Lemasters finished with 11. David Gray paced DePauw with 13 rebounds as the Tigers held a 38-27 advantage on the boards.
Jonathan Brown led Southwestern with 15 points, while Bergstrom added 12 and Caputo chipped in 10. Brown grabbed a team-high nine rebounds.
After shooting 56.7 percent from the floor in the first half, the Tigers hit just 36.8 percent over the final 20 minutes to finish the contest at 49.0 percent. Southwestern connected on 37.0 percent for the game. DePauw knocked in 12-of-28 threes to Southwestern's 5-of-19. Southwestern hit 16-of-18 from the line, while the Tigers struggled and hit just 8-of-23.
DePauw hosts Trinity tomorrow at 8 p.m., while Southwestern travels to Centre.
Follow DePauw Athletics on Twitter | Become a Fan of DePauw Athletics on Facebook
Back