Hot-shooting Tigers Top Panthers, 92-82
February 21, 2010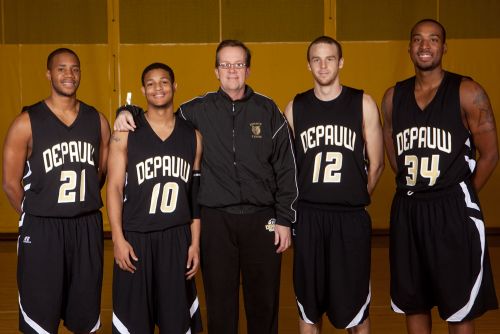 February 21, 2010, Greencastle, Ind. — DePauw shot 62 percent for the game including 68 percent in the second half on the way to a 92-82 Southern Collegiate Athletic Conference win over Birmingham-Southern.
The Tigers improved to 18-7 overall and finished SCAC play at 11-5, while the Panthers finished at 20-5 overall and 11-5 in the conference.
Birmingham-Southern built as much as a nine-point lead in the first half with a 9-0 run capped by Jasen Jonus' three with 7:18 left. The Tigers battled back to take a 38-37 lead at the break.
The Panthers held a 46-42 advantage four minutes into the second half, but DePauw scored nine straight on three-point plays from Steve Lemasters and Tom Callen and a three-point field goal by Lemasters with 14:16 remaining to make it 51-46.
DePauw stretched the margin to as many as 15 after Callen's layup with 4:09 left made it 75-60. Birmingham-Southern got as close as eight, but the Tigers hit all 16 of their free throws in the final two minutes to seal the win.
Tony James led five DePauw double-figure scorers with 17 points and also added five assists with two steals. He knocked in all 13 of his free throw attempts. Callen added 14 followed by Weakley with 12 on four three-pointers. Lemasters added 11 and David Gray finished with 10. Gray and Drew Wills each hauled down six rebounds.
Aaron Parr paced the Panthers with 19 points and four assists with Jonus adding 18 points. Caleb Lee finished with five boards as the Panthers held a 27-26 rebounding edge.
The game marked the final home contest for seniors (pictured above with head coach Bill Fenlon: Matt Bennett, Tony James and David Gray). They've posted a 78-27 record in four seasons.
DePauw opens Southern Collegiate Athletic Conference tournament play on Friday, February 26. The Tigers play in the fourth and final quarterfinal game which tips off at 8 p.m. at Millsaps College. Complete tournament information will be posted later.
Follow DePauw Athletics on Twitter | Become a Fan of DePauw Athletics on Facebook
Back