Tigers Advance to SCAC Title Game with 53-47 Semifinal Win over Austin
February 27, 2010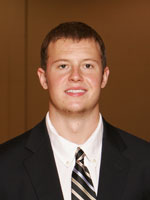 February 27, 2010, Jackson, Miss. — DePauw advanced to the Southern Collegiate Athletic Conference championship game for the first time since 2006 following a 53-47 win over Austin in the conference tournament semifinal contest.
The Tigers improved to 20-7 and will face Centre on Sunday at Noon CST in a rematch to the 2006 SCAC title tilt. Austin dropped to 20-7 with the loss.
Austin took a 16-7 lead, but DePauw held the Kangaroos scoreless over the final seven minutes of the first half and put together a 10-0 run to grab a 17-16 halftime lead.
After Austin regained a two-point lead less than three minutes into the second half, the Tigers scored 14 straight capped by Sean Haseley's jumper with 14:20 left to make it 34-22. DePauw's lead was still 10 at 41-31 after Drew Wills (pictured) scored a layup with just over seven minutes remaining.
The Roos rattled off eight straight to close the gap to 41-39 with 2:28 left. Haseley and Austin's Chris Sturtevant then exchanged threes before Wills scored with 1:29 left to give DePauw a 46-42 lead. Wills hit two charity tosses with 27 seconds left to extend the margin to six before Kola Alade hit a three with 21 seconds remaining to cut the Tigers' lead to 48-45.
Tony James pushed the lead to five with a pair of free throws with 17 seconds left before Sturtevant hit a pair to make it 50-47 with 11 seconds remaining. Tom Callen knocked in a pair with just eight seconds left to seal the win.
Wills led the Tigers with a career-high 17 points, while James added 11 and a team-high four assists. Callen and David Gray each hauled down 11 rebounds as DePauw held a 39-32 edge on the boards.
Alade paced Austin with 14 points and six assists and Scott Straley followed with 12 points. Sturtevant led the Roos with six rebounds.
Follow DePauw Athletics on Twitter | Become a Fan of DePauw Athletics on Facebook
Back