DePauw Captures Rokicki Tournament Title; Bergfeld Named Tournament MVP
November 28, 2010
BOX SCORES: DePauw-Ohio Wesleyan | Indiana-East-Rockford | SITE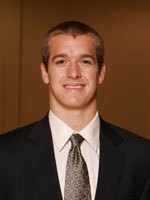 November 28, 2010, Greencastle, Ind. — DePauw improved to 4-0 and captured its sixth straight Mike Rokicki Community Versus Cancer Challenge following a 62-49 win over Ohio Wesleyan in the title game. The Battling Bishops dropped to 1-4 with the loss.
Ohio Wesleyan led by six midway through the first half, but DePauw put together a 13-3 run to take a 22-18 lead on the way to a 27-24 halftime advantage.
The Tigers scored the first 10 points of the second half to expand the margin to 13 and still led 44-32 after Sean Haseley hit a pair of free throws with 12:10 remaining. The Bishops battled back with a 13-1 run over a four-minute stretch to close the gap to 45-44 with 7:59 remaining Over the game's final 4:02, DePauw outscored Ohio Wesleyan 10-2 to take the win.
Tournament MVP Joe Bergfeld (pictured) led all scorers with 20 points and grabbed a career-high 11 boards, while all-tournament team selection Sean Haseley added 18 points and hit four threes.
Tim Brady was Ohio Wesleyan's lone double-digit scorer with 19 points and also earned all-tournament honors.
In the third place game, five Indiana-East players scored in double figures as the Red Wolves topped Rockford, 87-67. All-tournament team selection Matt Trimmell paced Indiana-East with 23 points and nine rebounds followed by Tyler Rigby and Justin Gill with 17 points each, Cody Banet with 15 and David Sanders with 11.
Paul Hall led Rockford with 14 points, while Taylor Stinson added 13 and Robert Malone followed with 12. Tory Minnifield led the Regents with seven rebounds. Malone rounded out the all-tournament team.
All-Tournament Team
Joe Bergfeld, DePauw (MVP)
Sean Haseley, DePauw
Tim Brady, Ohio Wesleyan
Matt Trimmell, Indiana-East
Robert Malone, Rockford
DePauw takes its unbeaten record into Wednesday's game with 6-0 Wabash College. Tipoff from the Neal Fieldhouse in Greencastle is set for 7:30 p.m.
Follow DePauw Athletics on Twitter | Become a Fan of DePauw Athletics on Facebook
Back