Shephard earns third all-America honor
December 17, 2003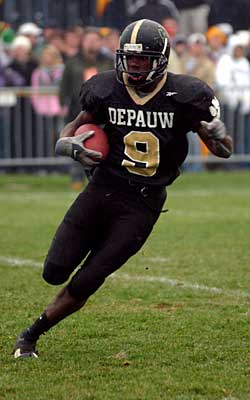 DePauw junior Jamarcus Shephard has been named to the 2003 College Sports Information Directors Division III All-America Football Team. Shephard was voted to the first team as a kick returner. The all-America honor is his third this season as he was also named to the Football Gazette Second Team and the American Football Coaches Association Division III All-America Team.
Shephard ranks second in Division III in kickoff return average this season with an average of 34.7 yards on his 19 returns. Two of those returns went for touchdowns in the Tigers' win over Millsaps on October 24 to tie an NCAA Division III single-game record and establish a DePauw and Southern Collegiate Athletic Conference mark. He has three returns for touchdowns in his career which also is a school record and has a career average of 29.3 yards on his 38 returns.
A wide receiver for the Tigers, Shephard was named DePauw's most valuable player and its offensive player of the year. Shephard later earned first team all-SCAC honors at receiver and was the conference's special teams player of the year.
The 26th annual team was selected by a panel of 30 sports information directors, including the founder, Wally Johnson of St. Lawrence University in New York. The SIDs represent the four playoff regions in NCAA Division III. Voters made first-, second-, and third-team selections with candidates receiving points on a 25-15-10 scale. In addition to the top three teams, players who received 100 or more points earned honorable mention status. The complete team is available here.
Back