DePauw tops Chicago, 33-9
October 1, 2005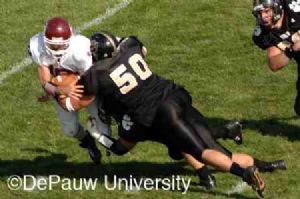 October 1, 2005, Greencastle, Ind. - Sophomore Jeremiah Marks rushed for 141 yards and two touchdowns to lead DePauw to a 33-9 victory over visiting University of Chicago on Family Weekend. The Tigers improved to 2-1 with their second straight win, while the Maroons dropped to 0-4.
The Tigers totaled 444 yards of offense including 316 on the ground, while the defense limited Chicago to 323 yards and only 79 on the ground.
DePauw drove to the Chicago 18 on its first series of the game, but quarterback Ross Wiethoff was picked off in the end zone by Todd Young. The Maroons then drove to the DePauw 20 before the Tigers' defense stopped them on downs.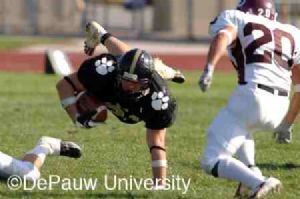 The Tigers then embarked on a 15-play, 83-yard drive that consumed 8:01 culminating in Marks' 2-yard run with 11:54 left in the first half. Tyler Mallory's extra-point attempt was blocked and the Tigers held a 6-0 lead.
The Maroons again drove into DePauw territory but Aaron Key stopped Chicago's Chuck Little for a 1-yard loss on fourth down at the Tigers' 44.
Mallory's 30-yard field goal was wide left with 4:33 remaining in the half and Chicago quickly moved to the DePauw 34, but again the defense came up big as Rob Farrow sacked Chicago quarterback Matt Rinklin for a 3-yard loss. DePauw took a 6-0 advantage into halftime.
DePauw opened the second half with touchdowns on each of its first two drives. Marks scored on another 2-yard run with 12:20 left in the third after Wiethoff scrambled 41 yards on the previous play to set up the score. The Tigers' try for two failed and they still held a 12-0 lead.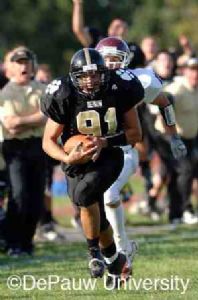 The Tigers' defense forced a three-and-out series and DePauw took over on its own 46. Wiethoff rushed for six yards on first down and Dorrius Ford scored his first collegiate touchdown on a 48-yard run. Mallory's kick made it 19-0.
Chicago got on the board on Mike Morzenti's 32-yard field goal with 1:59 left in the third and closed the gap to 19-9 on Rinklin's 5-yard pass to Colin Carrier with 11:53 left in the game that capped a 6-play, 71-yard series. The two-point conversion pass failed.
On the ensuing drive, Wiethoff scored on a 5-yard run with 6:32 left in the contest and Mallory's point-after made it 26-9. DePauw capped off the scoring when it forced a fumble on a Chicago punt return and recovered on the Chicago 18. Daniel Stauffer rushed for three yards on first down and then scored his first collegiate touchdown on a 15-yard run with 1:48 remaining.
Marks topped the 100-yard mark for the third time in as many games this season with his 141 yards. It also marked the seventh time in 12 career games that Marks has broken the century mark. Ford finished with a career-high 90 yards on just nine carries with Wiethoff totaling 71 on eight tries. Rinklin and Micah Dawson each rushed for 19 yards for the Maroons.
Wiethoff completed 10 of 16 passes for 122 yards, but was intercepted three times. Rinklin finished with 233 yards and a touchdown on 16-of-35 passing. Brian Culp led DePauw with five catches for 49 yards, while Dawson had five grabs for 147 yards.
Curran Clark and Key each had nine tackles for the Tigers with Key and Dustin Hertel each recording two tackles for loss. The Tigers sacked Chicago three times as Farrow and Hertel each had one with Key and Joseph DiSalvo sharing one. Scott Johnson led Chicago with 15 tackles, while Gaby Fernandez finished with 13.
DePauw opens Southern Collegiate Athletic Conference play on Saturday, October 8, when it travels to Sewanee. Chicago travels to Washington (Mo.) in its conference opener next Saturday.
Back