Tigers Pick off Seven Passes in 38-7 SCAC Win
September 15, 2007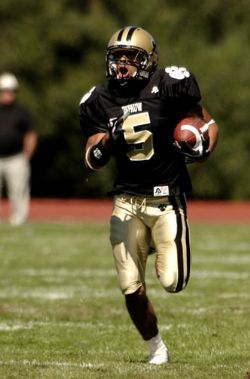 September 15, 2007, Greencastle, Ind. - DePauw's defense equaled a school and Southern Collegiate Athletic Conference record with seven interceptions including six in the second half and the offense totaled 435 yards on the way to a 38-7 SCAC win over Centre. DePauw improved to 2-0 overall and 1-0 in the conference, while the Colonels dropped to 1-2 overall and 0-1 in the SCAC.
On their first possession of the second quarter, the Tigers opened on their own five with quarterback Spud Dick completing a 46-yard pass to Chris Gasbarra. Jeremiah Marks capped the 8-play, 95-yard series with a 9-yard touchdown run.
Later in the half, Tiger cornerback Jevon Pruitt (pictured right) recorded the first of his two interceptions on the day when he picked off Jarrod Williams' pass at the DePauw 37 and returned it to the Centre 18. After a pair of Marks 4-yard runs, Dick teamed with Alex Koors on a 10-yard pass to make it 14-0 with 26 seconds left in the half.
DePauw put the game away in the third with a 24-point outburst initiated by Brendan Smith's 26-yard field goal with 8:55 left to push the lead to 17-0. The Tigers then scored 17 points in the final 1:45 of the third.
Jeff Bonner caught a 27-yard pass from Dick with 1:45 left before Reed Scherrer intercepted Williams on the third play of Centre's next series. A personal foul penalty after the return moved the ball to the Centre 11. Dick tossed an 11-yard scoring pass to Stephen Horrighs and pushed the margin to 31-0.
Four plays later, Mike Sprengnether (pictured left) picked off Williams at the Centre 42 and returned it all the way for the Tigers' final points.
Centre's lone score came in the fourth on Brian Hodge's 1-yard run. with 6:30 remaining that wrapped up a 9-play, 68-yard drive.
DePauw held a 435-232 total offense advantage including a 277-54 margin in the first half. For the second straight week the Tigers had a great deal of balance with 225 rushing yards and 210 through the air as Dick completed 18 of 29 passes with three touchdowns and no interceptions.
Marks set a school record with his 16th career 100-yard rushing game as he finished with 164 yards on a career-high 33 carries. Gasbarra led the Tigers with five catches for 88 yards, while Bonner and Mulligan each caught three.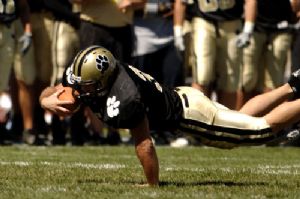 The Tigers' defense limited Centre to just 97 rushing yards on 30 attempts as Chase Porter picked up 58 on 13 carries. Justin Moore, Tyler Hinkel and Chris Zimmerman each finished with three catches.
J.J. Costello led the Tigers with six tackles followed by Marc Hoeppner and Grant Wright with five each. Pruitt raised his season total to four interceptions with two for 69 yards, while Sprengnether, Scherrer, Tarren Collins and Drew DeVilbiss each had one for DePauw's most in a game since 1986 and the most in an SCAC contest since 1976.
Tyler Boron led Centre with 13 tackles, while Adam Hay added 12 and Zack Sloan and Matt Johnson each finished with 11.
DePauw travels to Sewanee next Saturday, while Centre hosts Austin.
Back