Early Lead Propels DePauw to Old Gold Day Win over Millsaps
October 3, 2009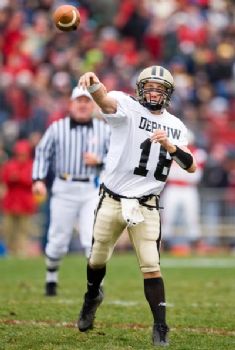 October 3, 2009, Greencastle, Ind. — DePauw jumped out to a 16-0 first-half lead and never trailed on the way to a 29-27 Southern Collegiate Athletic Conference win over visiting Millsaps on Old Gold Day.
The Tigers improved to 3-1 overall and 2-1 in the SCAC, while the Majors dropped to 3-2 overall and 2-1 in the conference.
Ball control was a key for the Tigers all afternoon as they possessed the ball for 42:24 and had three drives of 15 or more plays including the game's opening series. DePauw's Jordan Havercamp booted a 31-yard field goal to cap the Tigers' opening drive of 16 plays and give the hosts a 3-0 lead.
The Tigers' defense held the Majors to negative yardage on each of their opening two drives before Alex Koors caught a 2-yard pass from Spud Dick (pictured) which ended a 15-play, 82-yard series and gave DePauw a 9-0 lead.
Midway through the second, Millsaps punter William Lawrimore pinned the Tigers at their own 4-yard line, but Dick quickly teamed with Koors for a 37-yard pass play. Dick again connected with Koors for a 67-yard score making it 16-0 with 6:41 left in the half.
Millsaps wrapped up the half with its first score as it covered 80 yards in 19 plays with Chris Graves tossing a 6-yard pass to Jason O'Rear with just 31 seconds left.
Dick's 10-yard scoring pass to Bryan Mulligan early in the third made it 23-7. That score was also the 57th touchdown pass of Dick's career which broke the record of 56 held by Jeff Voris (1986-89). Millsaps came right back as Graves connected with Michael Galatas for a 68-yard score on the third play of the drive.
Havercamp then nailed a 36-yard field goal to push the lead back to 26-14. Early in the fourth, Adam Hill's punt landed at the Millsaps 8-yard line, but the Majors converted on Galatas' 38-yard score from Graves to finish the 92-yard series and close the DePauw lead to 26-21.
DePauw then embarked on, arguably, the biggest series of the game. Starting on their own 28, the Tigers converted three third down situations and drained 9:15 off the clock before Havercamp nailed his third field goal. The seniors' 42-yard boot pushed the Tigers' lead to 29-21.
Again, Millsaps wasted little time in answering as Graves found Galatas for a 52-yard touchdown on the third play from scrimmage closing DePauw's lead to 29-27 with 3:37 left. Graves completed the two-point conversion pass to Shane Bowser, but the Tigers' Thomas Wrona met him at the DePauw 2 and ended the potential game-tying play.
The Tigers were then able to run out the final minutes and preserve the win.
DePauw outgained Millsaps, 466-320, ran 22 more plays than the Majors and converted eight more first downs.
Dick completed 28 of 34 passes for 372 yards and three touchdowns and no interceptions. Additionally, Dick avoided being sacked during the contest.
Koors caught eight passes for 212 yards and two scores with Mulligan adding seven for 60 yards and one touchdown. Ellis rushed for 60 yards on 24 carries.
Graves completed 20 of 36 passes for 300 yards with four touchdowns and no interceptions. Galatas hauled in four for 166 yards as did John Milazzo for 36 yards. DePauw's defense limited the Majors to just 20 yards on 18 attempts including a pair of sacks.
Wrona paced the Tigers with seven tackles including one for loss. Ryan Preuss added five and a team-best two for loss. Alex Fitch had one sack for 14 yards and Scott Mason added one for four yards. Fitch also added four quarterback hurries.
Will Hawkins led Millsaps with 11 tackles, while Mikes Sager added 10. Colby Langston finished with nine and a team-best two for loss.
DePauw returns to action on Saturday, October 10, when it travels to Rhodes.
Follow DePauw Athletics on Twitter | Become a Fan of DePauw Athletics on Facebook
Back