DePauw Men Place Third at SCAC Golf Championships
April 26, 2009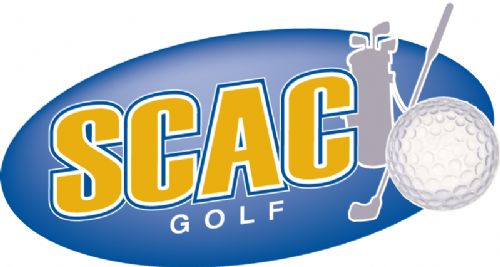 April 26, 2009, Tunica, Miss. — DePauw's men finished third at the Southern Collegiate Athletic Conference Golf Championships at the Tunica National Course.
Oglethorpe won with a three-round total of 920, while Rhodes was second at 927 and DePauw third at 945.
Peter Haller earned all-conference honors after finishing in a tie for eighth with a 236. Ronnie Harris and Ryan Berra each shot 237 to tie for 12th, while Joey Piatek was tied for 16th with a 238 and Chase King finished in a tie for 30th with a 251.
Oglethorpe's Scott Pugh was the medalist with a 225.
SCAC Championships
Tunica National
Tunica, Miss.
Dates: 4/24-26/2009
Par 72, 7075 yards  (9 teams, 45 players)

Oglethorpe University......... 312 302 306   920   +56      1st
Scott Pugh....................  78  73  74   225    +9      1st
Colin Chapman.................  77  75  77   229   +13      4th
Olafur Loftsson...............  81  75  77   233   +17      6th
Hap Kaufold...................  76  81  78   235   +19      7th
Matt Bernstein................  84  79  81   244   +28     21st

Rhodes College................ 322 305 300   927   +63      2nd
Bill Bazzel...................  78  75  73   226   +10      2nd
Scott Wallace.................  80  75  77   232   +16      5th
Doug Gordon...................  84  78  74   236   +20   t- 8th
Brian Wolpert.................  80  77  79   236   +20   t- 8th
Farrell Diliberto.............  84  83  76   243   +27     20th

DePauw University............. 317 319 309   945   +81      3rd
Peter Haller..................  80  80  76   236   +20   t- 8th
Ryan Berra....................  81  81  75   237   +21   t-12th
Ronnie Harris.................  75  79  83   237   +21   t-12th
Joey Piatek...................  81  79  78   238   +22   t-16th
Chase King....................  89  82  80   251   +35   t-30th

Trinity University............ 322 320 318   960   +96      4th
Jonathan Alden................  71  80  77   228   +12      3rd
Ryan Barry....................  76  79  81   236   +20   t- 8th
Nasheel Kassam................  83  80  82   245   +29   t-22nd
Chase Clayton.................  92  81  80   253   +37     34th
Ravi Coutinho.................  96  85  80   261   +45     37th

Centre College................ 318 330 317   965  +101      5th
Lyndon Jones..................  77  84  76   237   +21   t-12th
Chris Morris..................  78  84  80   242   +26     19th
Chris Conkright...............  84  86  79   249   +33     26th
John Hester...................  79  83  88   250   +34   t-27th
Max Manning...................  89  79  82   250   +34   t-27th

Southwestern University....... 324 324 319   967  +103      6th
Sean Madera...................  76  82  79   237   +21   t-12th
Ricky Jones...................  83  78  77   238   +22   t-16th
Tyler Russell.................  81  82  83   246   +30   t-24th
Xan Erwin.....................  84  83  83   250   +34   t-27th
Cody Patrick..................  89  82  80   251   +35   t-30th

Sewanee....................... 349 325 324   998  +134      7th
Neil Dyer.....................  88  83  74   245   +29   t-22nd
Chris Beveridge...............  96  75  81   252   +36     33rd
Alex Irwin....................  84  86  84   254   +38     35th
Will Stanley..................  81  92  85   258   +42     36th
Robert Osborne................  96  81  93   270   +54     39th

Hendrix College............... 356 352 347  1055  +191      8th
Cody House....................  79  78  82   239   +23     18th
Dylan Sherwood................  86  85  75   246   +30   t-24th
Dylan Veron...................  91  93  84   268   +52     38th
Matt Blair.................... 100  96 107   303   +87     43rd
James Ewing................... 109  96 106   311   +95     44th

Millsaps College.............. 363 361 359  1083  +219      9th
Jerry Johnston................  83  85  83   251   +35   t-30th
Jack Rader....................  89  95  87   271   +55     40th
Madison Field.................  93  86  96   275   +59     41st
Freddie Brackin...............  98  95  93   286   +70     42nd
Daniel Honeycutt.............. 104 101 112   317  +101     45th

Back