Tigers Win Denison Classic; Berra Shares Lead with One-under Performance
September 5, 2010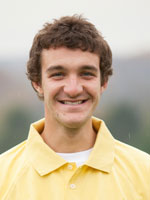 September 5, 2010, Granville, Ohio — DePauw shot a second-round 290 and won the Denison Fall Classic with a two-round 584 at the Granville Golf Course. Wittenberg was second with a 592.
DePauw's Ryan Berra (pictured) shared the individual top spot with Wittenberg's Ricky Boerner as both shot one-under 141 for the tournament.
Lucas Crowley was tied for third with a 146, while Ronnie Harris tied for fifth with a 148. Graham Singer shot a 150 to tie for seventh and Chase King rounded out the Tigers' finishes with a 152 and tied for ninth.
The Tigers return to action on September 18-19 when they compete in the Anderson Invitational.
Follow DePauw Athletics on Twitter | Become a Fan of DePauw Athletics on Facebook
Back