#17 DePauw Rolls to 4-1 Win at Wooster
October 15, 2011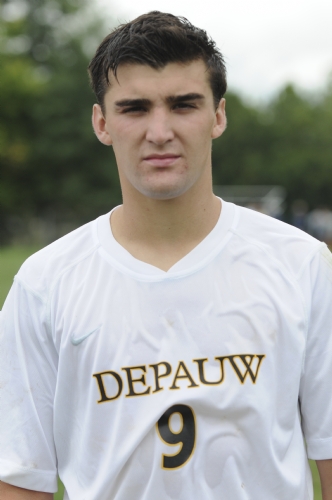 October 15, 2011, Wooster, Ohio — The 17th-ranked Tigers expanded upon a 1-0 halftime lead with three scores in the opening 22 minutes of the second half on the way to a 4-1 North Coast Athletic Conference win at Wooster.
DePauw improved to 11-2 overall and 5-1 in the NCAC, while Wooster dropped to 4-7-1 overall and 0-5 in NCAC play.
Sam Meyer (pictured) scored the first of two goals at 17:42 and then made it 2-0 with a score at 49:40. Ryan Keefe's penalty kick at 52:55 made it 3-0 before Nate Snyder rounded out the DePauw scoring at 66:17 with an assist from Dean Weaver.
Wooster's Evan Severs put the Fighting Scots on the board at 82:53 on a double assist from Luke Koniarczyk and Noah Wagermann.
DePauw outshot Wooster 17-8 and held a 7-1 edge in corners.
Nathan Sprenkel had one save for the Tigers and Stephen Buchholz added two. Wooster's Taylor Takacs has six in the contest.
DePauw returns to conference action on Wednesday, October 19, when it hosts Wabash at 7 p.m.
Back