DePauw Sweeps SCAC Men's Swimming Weekly Honors
December 12, 2008
December 12, 2008, Greencastle, Ind. — DePauw juniors John Cook and Adam Wishart earned Southern Collegiate Athletic Conference Swimmer and Diver of the Week, respectively, for their performances last weekend.
At the DePauw Invitational, Cook was part of seven different NCAA qualifying swims. He made an A cut in the 100 free going a 44.77 which set an SCAC open record. He also posted a B cut in the 50 free after leading off the 200 free relay in 20.70 seconds. The relay earned a B cut in 1:22.33.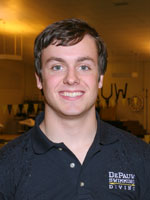 Cook (pictured above left) also won the 50 free at the meet. Leading off the 800 free relay he posted another B (6:57.42) cut of 1:41.93. On the 400 free relay he anchored it with a time 44.19 the relay posted a B cut of 3:02.99. On the 200 Medley relay which went a 1:34.26, he split a 20.18.
Competing at the Rose-Hulman Diving Invitational, Wishart (pictured right) won the three-meter competition with a score of 425 just off the NCAA qualifying score and he took second on the one-meter board with a score of 409.6.
Back