DePauw Men Tied for SCAC Lead; Cook Breaks 50 Free Mark
February 13, 2009
February 13, 2009, Nashville, Tenn. — Following the conclusion of the first full day of competition on Thursday, DePauw is tied with Trinity for first place at the 2009 Southern Collegiate Athletic Conference Championships. Each has 288 points, while Centre is third with 232.
Complete results along with links to award stand photos are available through the official site.
DePauw's 200-yard freestyle relay won in an NCAA provisional time of 1:22.98. That time ranks third in Division III. Josh Baugh took first in the 200 individual medley in a meet and school record 1:54.54. Charlie Boehme placed sixth in the 500 free but did so in a school-record 4:43.93.
John Cook (pictured) took first in the 50 free in a meet record and NCAA automatic qualifying time of 20.51 seconds. The time is the seventh-fastest in Division III this year and broke his own school record. Steve Klabak finished third in the event in 21.24 seconds.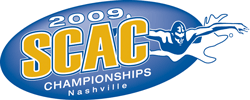 The Tigers then finished second in the 400 medley relay in a provisional qualifying time of 3:28.37. The top three in each event earn all-conference honors.
Action continues on Friday and the meet wraps up on Saturday evening. The 15th-ranked Tigers are going after their fifth straight conference title and seventh in their 11 years in the SCAC.
Back