Wishart Earns All-SCAC Honors on Opening Evening of Championships
February 18, 2010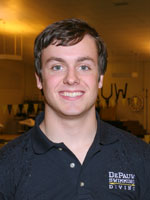 February 18, 2010, Louisville, Ky. — DePauw senior Adam Wishart earned all-Southern Collegiate Athletic Conference honors for the second straight year after finishing third in one-meter diving on the opening evening of the conference championships at the Ralph R. Wright Natatorium.
Wishart totaled 372.80 points, while Trinity's Kevin Martin won with 448.35 and Centre's Hunter Hayes was second with 422.90. Also scoring for the Tigers were Patrick Springer in fourth with 357.1 points and Matt Keinsley in 12th with 245.15.
Thursday's full day of competition begins with prelims at 10:30 a.m. For complete meet information, please visit the official site. Video streaming will be available for the remainder of the championships and can be accessed by visiting Penn Atlantic and scrolling down to "Southern Collegiate Athletic Conference Swimming & Diving Championships at University of Louisville" links.
The Tigers are going after their sixth straight conference championship and eighth in their 12 years of SCAC competition.
Follow DePauw Athletics on Twitter | Become a Fan of DePauw Athletics on Facebook
Licensed to Ralph Wright Natatorium - Site License    HY-TEK's MEET MANAGER 3.0
                   2010  Southern Collegiate Athletic Confer                   
                       Swimming and Diving Championships                       
                                    Results                                    
 
Event 38  Men 1 mtr Diving
===============================================================================
   SCAC Open:   516.35             Gooch, DePauw                               
   SCAC Meet:   478.20   2/13/2008 Hunter Hayes, Centre                        
    Name                    Year School               Prelims     Finals        
===============================================================================
Finals
  1 Kevin Martin              12 Trinity                          448.35        
  2 Hunter Hayes              10 Centre                           422.90        
  3 Adam Wishart              10 DePauw                           372.80        
  4 Patrick Springer          11 DePauw                           357.10        
  5 Joseph Shaner             12 Colorado                         331.15        
  6 Ryan Rougeux              13 Centre                           329.35        
  7 Ryan Berger               13 Rhodes                           328.40        
  8 Andrew Snead              11 Trinity                          317.20        
  9 Matt Hawley                  Trinity                          314.65        
 10 Cole Larsen               10 Sewanee                          286.60        
 11 Jack Foreman              11 Trinity                          285.95        
 12 Matt Keinsley             13 DePauw                           245.15        
 13 David Clay                10 Trinity                          217.95        
 14 Bill Dearybury               Sewanee                          217.20        
 15 Nathan Tinker             12 Trinity                          201.80        
 16 Victor Cresenzo              Sewanee                          186.80        
 -- xDean Contreras           12 DePauw                          X204.30        
 
                    Men - Team Rankings - Through Event 38                     
 
  1. Trinity University                   52   2. DePauw University                    36
  3. Centre College                       30   4. Colorado College                     14
  5. Rhodes College                       12   6. University of the South              11

Back