Three Tigers Earn All-Conference Honors; Cath Named Coach of the Year
May 21, 2008
May 21, 2008, Greencastle, Ind. - Following their second straight Southern Collegiate Athletic Conference championship, the DePauw men's tennis team placed three players on the all-SCAC team in voting by the conference's head coaches. The complete release is available here.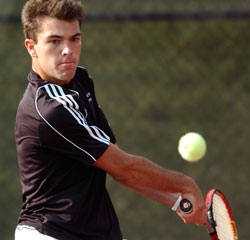 Bryan Heck (pictured left), who totaled 66 points and one first-place vote, was the Tigers' top vote-getter and fourth among conference players. Heck finished with a 20-4 singles record this season including a 16-3 dual match record at the number three spot. An honorable mention all-SCAC choice last year, Heck finished the year with a 23-6 doubles record including 18-5 at the number two position.
Scott Sandager totaled two first-place votes and 47 points after finishing with an 18-7 singles record including a 9-4 dual match mark at the number four spot. Sandager also was 20-5 in doubles with a 16-4 record at the number two position.
Scott Sauer was the Tigers' final all-SCAC selection with 43 total points after finishing the season with a 26-5 singles record including 12-1 in dual matches at the number five position. He also was 4-2 in doubles play.
DePauw head coach Tom Cath, who has amassed a 352-161 record in 23 seasons and is the winningest coach in program history, was named the SCAC Coach of the Year for the second straight season and fifth time in the Tigers' 10 years of SCAC competition. Cath has directed the Tigers to three straight 20-plus win seasons.
Heck, Sandager, Sauer and Evan Hunter earned spots on the SCAC all-tournament team after going undefeated in singles play as did Heck and Sandager in doubles after posting a 3-0 mark at the SCAC Championship. The complete all-tournament team is available here.
Back