DePauw Doubles Team Wins Regional Title to Advance to National Small College Championships
September 26, 2011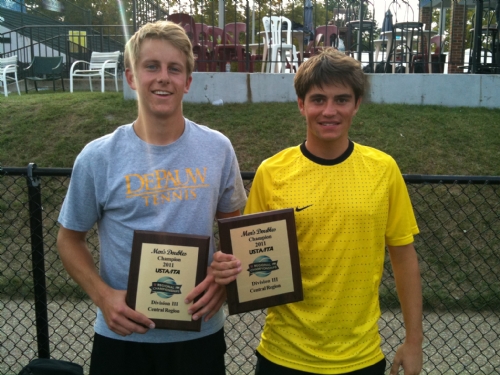 September 26, 2011, St. Louis, Mo. — DePauw's tandem of Ben Kopecky and Sam Miles won all six matches at the USTA/ITA Regional Championships and captured the doubles title. With the title, the two advance to the USTA/ITA National Small College Championships in Mobile, Ala., October 13-16.
Kopecky and Miles defeated teammates Eric Hubbard and David Moss by an 8-5 score in the semifinals before topping Washington University's Franklin and Chu in the title match 6-2, 5-7, 1-0 (10-7). In all, four of the six DePauw doubles teams made it to the round of 16.
In the singles draw, Miles advanced to the semifinals before falling to A. Putterman of Washington 6-2, 6-2.
All of DePauw's results are available here.
Back