Tigers win Southern Indiana Invitational
September 15, 2003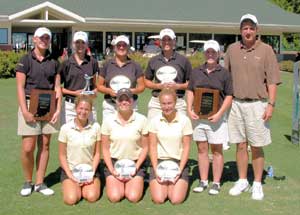 The women's golf team rolled to a first-place finish at the University of Southern Indiana Screaming Eagles Golf Classic at the Helfrich Hills Golf Course in Evansville. Over the two-day tournament the Tigers shot a 630 to finish 14 strokes ahead of host Southern Indiana.
DePauw's Jessica Schneider was the medalist with a 152 including a one-over 74 in the first round. Sara Gates tied for sixth at 158 followed by Deborah Garriott who tied fot ninth with a 160. Lindsay Amore shot a 163 to place in a tied for 14th and Lauren Brummett was tied for 20th at 164.
Playing as individuals, Audra Butts shot a 173 followed by Katie Flynn at 176 and Lisa Chambers at 179.
DePauw returns to action September 20-21 at the Illinois Wesleyan Invitational.
Back