13th-ranked Tigers blank Rhodes 3-0
October 10, 2004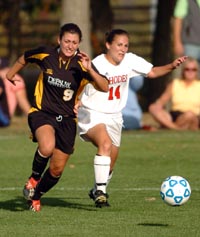 GREENCASTLE, Ind. - It took just 28 seconds for the Tigers to get on the scoreboard as Crissy Harter scored on an assist from Mary Beth Robinson and, as it turned out, that would be all DePauw would need in a 3-0 Southern Collegiate Athletic Conference win over visiting Rhodes.
The 13th-ranked Tigers improved to 8-2-1 overall and 5-1 in the SCAC, while Rhodes dropped to 5-6-2 overall and 1-4-1 in the conference.
Kim Schreiner made it 2-0 on a penalty kick at 22:30 and Sarah Hile closed out the scoring with a goal at 83:16 on an assist from Tory Pavlovich.
DePauw outshot the Lynx 18-4 and held a 12-1 advantage in corners. The Tigers committed 16 fouls and Rhodes finished with five.
Abby Currens had one save in recording the Tigers' seventh shutout of the year. Nicole Lazo had seven saves for Rhodes.
DePauw returns to action on Saturday, October 16, when it hosts Wheaton (Ill.) College.
Back