Fourth-ranked Wheaton blanks 11th-ranked Tigers
October 16, 2004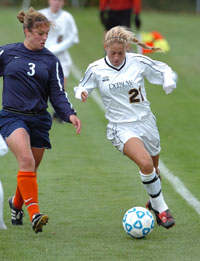 GREENCASTLE, Ind. - Fourth-ranked Wheaton scored three times in the first 19:17 on the way to a 4-0 win over host and 11th-ranked DePauw. DePauw dropped to 8-3-1, while the Thunder improved to 13-1
Wheaton's Jen Binger scored a hat trick with two goals in the first half and one in the second while assisting on the other goal. Binger scored the eventual game-winner just 5:57 into the contest with an assist from Ashley Wiersma. At 18:05 Sara Johnson scored on Binger's assist and Wheaton made it 3-0 at 19:17 as Binger scored with an assist from Mary Doleshal. Binger rounded out the scoring at 52:18 on Johnson's assist.
Wheaton outshot DePauw 13-6 and held a 6-2 advantage in corners. Abby Currens recorded four saves for the Tigers while Ashley Vratil had one and Brita Nelson recorded three for the Thunder.
DePauw returns to Southern Collegiate Athletic Conference action when it travels to Southwestern on Friday, October 22.
Back