Tigers travel to Ireland
October 27, 2004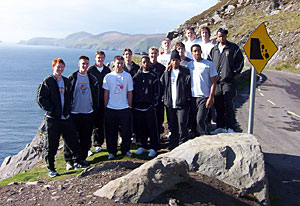 by Julia Arnold
On Saturday, October 16, 2004, the DePauw men's basketball team departed for a fall break trip to Ireland that was filled with sightseeing and basketball games. The team, along with friends and family members, toured the southern coast of Ireland.
Early in the week the team visited the Dingle Peninsula and the port cities of Cork and Cobh. The group visited Blarney Castle where several team members climbed the stairs to kiss the Blarney Stone. Later in the week, the team toured the Waterford Crystal factory and the Guinness Storehouse.
The Tigers played three exhibition games against Cork Neptune, Waterford Crystal and Dart Killester. DePauw finished with a 2-1 record and were led by junior guard Alex Stewart who average 29.3 points per game including 43 points against Cork Neptune. Freshmen Brian Oilar and Steve Schott made their first appearances of the season averaging 11.0 and 8.3 points, respectively.
After a November 11 exhibition game at Northwestern, the Tigers open the season on November 19 at the Illinois Wesleyan Tipoff Tournament. They open the home season on November 27 against Wisconsin Lutheran in the opening round of the Mike Rokicki Community Versus Cancer Challenge.
Back