DePauw wins fifth straight; sets SCAC rushing record
November 6, 2004
GREENCASTLE, Ind. - Behind a school-record three 100-yard rushers, DePauw won its fifth straight game as it defeated visiting Rose-Hulman, 30-3. The Tigers set a Southern Collegiate Athletic Conference record with 507 rushing yards on the way to improving to 7-2 overall and finishing SCAC play at 5-1. The Engineers dropped to 4-5 overall and 1-4 in conference play.
The 507 ground yards was the second-best performance in school history behind the 532 set against Principia in 1975 and the Tigers' 573 total yards was the third-best performance by a DePauw team.
Junior quarterback Ross Wiethoff led the way with a career-high 186 yards on 15 carries, while senior Matt McMahon established a career-high for the second straight week by totaling 137 yards in 22 tries. Jeremiah Marks became the first freshman in school history to gain at least 100 yards in four games when he totaled 129 on just 17 attempts.
The teams battled to a 3-3 halftime tie as Tyler Mallory booted a 25-yard field goal for DePauw late in the first and Jeremy Sharp sent a 20-yarder through the uprights with 10 seconds left in the half. Each team had opportunities as DePauw took its opening drive to the Rose-Hulman 20 before Brett Buetel intercepted Wiethoff's pass in the end zone. Later in the half, DePauw's Brendan Berigan notched the first of two interceptions in the game as he picked off Cameron Hummel's pass at the DePauw 15 and returned it 19 yards.
The Tigers scored on each of their first four second-half drives and opened the second half with a five-play, 80-yard drive capped by Marks' 53-yard run and subsequent 3-yard score. On their second possession, the Tigers again started at their own 20 and drove 80 yards with Wiethoff covering the final 22 on third-and-goal.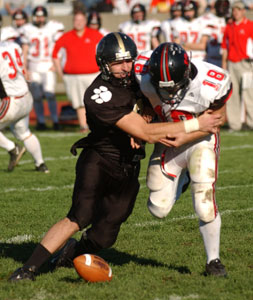 On its next series, Rose-Hulman was faced with a third-and-nine from its own 35 when Dustin Hertel hit Hummel, jarring the ball loose for Rob Camfield to recover at the Engineers' 23. After an incomplete pass on first down, Marks carried five straight times including a 1-yard run with 2:38 left in the third to make it 24-3.
Aaron Gerhardstein replaced Hummel at quarterback for the Engineers on their next series and drove his squad to the Tigers' 28 before Berigan picked off his second pass of the afternoon at the DePauw 4.
Starting on its own nine, DePauw drove 91 yards in nine plays with McMahon running the last nine yards to make it 30-3 with 12:32 remaining in the game.
Wiethoff completed seven of 17 passes for 66 yards with three going to Jamarcus Shephard. Shephard moved into fourth place in SCAC history in receiving yards and fifth in receptions. Marks pushed his season rushing total to 831 in the victory which is the sixth-highest in a DePauw season.
Gerhardstein led Rose-Hulman with 56 yards in just seven attempts and completed five of 11 passes for 43 yards. Hummel completed seven of 18 for 75 yards. Eleven different Engineers caught passes with Bryan Pape and Ryan Hart each recording two. Rose-Hulman finished with 290 yards of offense.
Defensively, Michael Elkins and Dustin Hertel each finished with nine tackles with Hertel adding 2.5 for losses of 16 yards. In addition to his two interceptions, Berigan also broke up three more. Bueltel totaled 12 tackles for the Engineers and added three breakups in addition to his eighth interception of the season. Austin Hastings added 10 tackles.
The Tigers finish the 2004 season with the annual Monon Bell game against Wabash in Crawfordsville next Saturday. Kickoff is set for 1:05 p.m. in the 111th meeting between the two schools and the 73rd for possession of the Monon Bell. Rose-Hulman hosts Centre next Saturday.
Back