DePauw hosts second annual Mike Rokicki Community Versus Cancer Challenge
November 23, 2004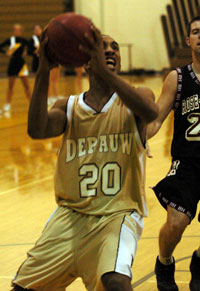 GREENCASTLE, Ind. - The DePauw men's basketball team returns to action this Saturday when it plays host to the second annual Mike Rokicki Community Versus Cancer Challenge.
Play begins on Saturday at 6 p.m. with Albion College (2-0) taking on 21st-ranked Washington, Mo. (2-1). DePauw (1-1) squares off with Wisconsin Lutheran (1-2) in the 8 p.m. contest. The winners meet on Sunday at 4 p.m. with the losers facing each other in the 2 p.m. consolation game.
Live statistics will be available for all four games and WGRE will broadcast both DePauw contests.
Tabbed as "Mr. Greencastle," Mike Rokicki gave so much of his time to Putnam County before he lost a battle with cancer in August 2003.
Proceeds from this weekend's game will be applied directly to the University and community's Relay for Life efforts. The 2003 tournament generated $4,400 which was part of the record $201,000 raised through last May's Relay for Life. DePauw's Relay has been nationally recognized as the best college-run Relay for Life in the United States.
Tickets are $5 per adult per day or $8 for both days. Students, kindergarten through college will be admitted for $2 per day.
Back