Undefeated Albion tops DePauw in Rokicki title game
November 28, 2004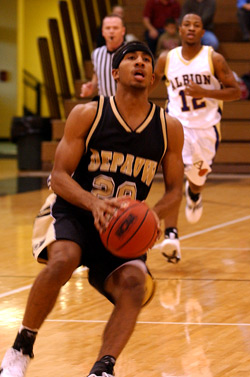 GREENCASTLE, Ind. - Visiting Albion scored the final 11 points of the first half and opened the second half with a 7-3 run on the way to a 75-64 victory over DePauw in the championship game of the second annual Mike Rokicki Community Versus Cancer Challenge. Albion improved to 4-0 with the win, while the Tigers dropped to 2-2. Washington (Mo.) won the consolation game with a 94-53 victory over Wisconsin Lutheran.
The Tigers led nearly the entire first half including a 10-point advantage at 22-12 after Brian Oilar's layup with 12:53 left in the half. Austin Brown hit a pair of free throws with 3:12 reamining in the half to give DePauw a 36-31 lead before the Britons closed the half with 11 straight points in the final 2:54.
Albion stretched the lead to 11 at 67-56 after Brandon Crawford's three-point play with 5:16 remaining. Steve Schott brought the Tigers back to within four at 67-63 with a three-pointer, a jumper and two free throws in a span of 2:38.
Mike Thomas' three-point play with 2:18 remaining and Crawford's layup with 1:01 left pushed the Briton's margin back to nine.
Schott and Reid Sakel (pictured below) led DePauw with 14 points apiece, while Alex Stewart (pictured above) added 13 and Oilar followed with 11. Travis DePree paced Albion with 18 with Thomas adding 17, Crawford 15 and Lonny Fulse 11.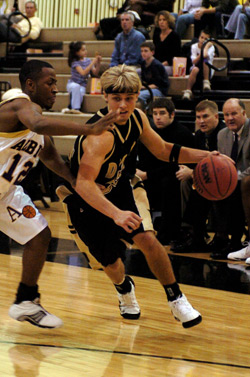 The Tigers shot 48.9 percent from the floor, while Albion connected on 48.3 percent from the field. DePauw held a 28-26 advantage on the boards with Oilar and Todd Capes each grabbing six. DePree hauled down nine for Albion along with dishing out four assists, blocking two shots and recording two steals. The Britons committed just eight turnovers in the win.
Thomas was named the tournament's most valuable player, while DePree, Stewart, Washington's Anthony Hollins and Wisconsin Lutheran's Kevin Christensen were also named to the all-tournament team.
DePauw returns to action on Wednesday, December 1, when it hosts Wabash at 7:30 p.m.
Back