DePauw men capture SCAC Swimming and Diving title; Kennel named swimmer of the year
February 19, 2005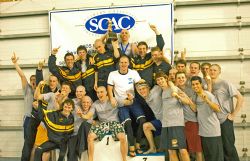 February 19, 2005, San Antonio, Texas - For the second time in three seasons, the DePauw men's swimming and diving team has captured the Southern Collegiate Athletic Conference championship.
DePauw won with 842 points with Sewanee in second with 761 and Trinity in third with 734. Rose-Hulman finished fourth with 526 points followed by Centre (346), Hendrix (241), Rhodes (233) and Southwestern (136).
Senior Evan Kennel was named the SCAC Male Swimmer of the Year and turned in an NCAA automatic qualifying performance in today's 200-yard backstroke prelims in 1:51.76. He won the finals in 1:52.52.
In Saturday's other events, Robert Alexander won the 100 freestyle in an NCAA provisional time of 46.35 seconds, while the 400 free relay of Alexander, Mike Mioduski, Peter Riggs and Kennel won in 3:10.45. Jonathan Enenbach earned all-conference honors by placing third in the one-meter diving competition with 374.15 points.
Complete information is available from the official site.
Event 26  Men 1650 Yard Freestyle
===============================================================================
 SCAC Record: * 16:15.86        2001 Ryan Van Dar Kar, Trinity                 
   SCAC Open: # 16:13.63        2001 Jeff Willis, DePauw                       
  NCAA B CUT: ! 16:29.99                                                       
  NCAA A Cut: + 15:58.99                                                       
    Name                    Year School                  Seed     Finals Points 
===============================================================================
  1 Dario Turjanski           FY TRINITY                   NT   16:48.89   20  
  2 Blake Ramsey              FY SEWANEE             17:35.01   16:59.37   17  
  3 Blair Boudousquie         SO TRINITY             17:48.33   17:20.51   16  
  4 Jacob Sorensen            FY RHIT                17:57.45   17:24.62   15  
  5 Will Adams                JR CENTRE              18:15.16   17:33.07   14  
  6 Austin Diaz               SR DEPAUW              18:25.06   17:37.73   13  
  7 Ian Prunty                SR DEPAUW              17:57.97   17:39.56   12  
  8 Matt Fosheim              SO DEPAUW              17:37.36   17:41.86   11  
  9 Jeff Andes                SO RHIT                18:47.89   17:49.45    9  
 10 Patrick Robertson         JR SOUTHWESTERN        18:46.00   17:58.38    7  
 11 Nick Hedge                FY DEPAUW              18:23.80   18:12.23    6  
 12 Alec Hogsette             FY SEWANEE             18:27.84   18:15.96    5  
 13 Matt Moldenhauer          SR SEWANEE                   NT   18:26.86    4  
 14 Greg Martin               JR TRINITY             19:05.13   18:32.04    3  
 15 John Whitten              FY RHIT                20:37.71   18:33.98    2  
 16 Stephen Rodriguez         FY RHIT                20:27.68   18:54.73    1  
 17 Craig Kedrowski           JR RHIT                19:37.05   18:55.08  
 18 Will Corvey               JR RHODES              20:40.57   19:05.58  
 19 Steve Reynolds            SR SOUTHWESTERN        20:30.57   19:55.05  
 20 Chris Leahy               FY RHIT                22:07.64   20:30.31  
 21 Nathan Carlson            SO RHIT                22:00.83   21:07.38  
 -- Joshua Strader            SO DEPAUW              19:01.82  X18:56.41  
 
Event 28  Men 200 Yard Backstroke
===============================================================================
 SCAC Record: * 1:51.57        2001 Zach Coburn, Trinity                       
   SCAC Open: # 1:51.57   2/17/2001 Zach Coburn, Trinity                       
  NCAA B CUT: ! 1:54.69                                                        
  NCAA A Cut: + 1:52.09                                                        
    Name                    Year School               Prelims     Finals Points 
===============================================================================
A - Final
  1 Evan Kennel               SR DEPAUW               1:51.76    1:52.52!  20  
  2 Eddie Han                 FY RHODES               1:56.40    1:55.24   17  
  3 Elliott Dement            JR SEWANEE              1:57.48    1:56.74   16  
  4 Tod Pesses                FY SEWANEE              1:58.19    1:57.36   15  
  5 Kris Harmon               FY SEWANEE              2:00.11    1:59.69   14  
  6 David Rivard              JR TRINITY              1:59.07    2:00.12   13  
  7 Michael Young             SO DEPAUW               2:02.71    2:05.02   12  
  8 Kiel Beehler              JR DEPAUW               2:03.53    2:05.29   11  
 B - Final
  9 Zack Tatlock              FY RHIT                 2:03.59    2:03.26    9  
 10 Nate Crimmins             FY CENTRE               2:05.39    2:05.57    7  
 11 Gerry Wallace             FY DEPAUW               2:08.93    2:07.60    6  
 12 Zach Person               FY HENDRIX              2:09.09    2:07.77    5  
 13 John Whitten              FY RHIT                 2:18.01    2:18.47    4  
 14 Adam Kirn                 FY RHIT                 2:24.81    2:24.03    3  
 15 Aaron Meles               FY RHIT                 2:40.99    2:38.59    2  
 
Event 30  Men 100 Yard Freestyle
===============================================================================
 SCAC Record: * 46.10        2000 Daniel Garrison, DePauw                      
   SCAC Open: # 45.42             J. Moore, Trinity                            
  NCAA B CUT: ! 46.79                                                          
  NCAA A Cut: + 45.69                                                          
  Davis Pool: @ 45.97        2004 Michael Klueh                                
    Name                    Year School               Prelims     Finals Points 
===============================================================================
A - Final
  1 Robert Alexander          FY DEPAUW                 47.99      46.35!  20  
  2 Dan Petersen              SO TRINITY                47.40      47.13   17  
  3 Ned Booker                SR SEWANEE                48.00      47.46   16  
  4 Mike Mioduski             SR DEPAUW                 48.26      47.92   15  
  5 Pat Ley                   FY CENTRE                 48.96      48.95   14  
  6 Alex Brown                FY CENTRE                 48.55      49.17   13  
  7 Wyatt Franks              SO RHODES                 49.09      49.26   12  
  8 Peter Riggs               FY DEPAUW                 49.41      49.71   11  
B - Final
  9 Daniel Eley               SO SEWANEE                49.48      49.00    9  
 10 Aaron Knox                JR RHIT                   49.47      49.60    7  
 11 Matt Wittstein            SO RHIT                   50.85      50.66    6  
 12 Dan Freve                 SO RHIT                   49.56      50.98    5  
 13 Brandon Turner            SR HENDRIX                53.07      51.74    4  
 14 Jason Woodall             SO CENTRE                 50.23      51.96    3  
 15 Chris Ernst               SO RHODES                 53.75      52.88    2  
 16 Brad Ison                 FY CENTRE                 53.62      54.38    1  
 
Event 32  Men 200 Yard Breaststroke
===============================================================================
 SCAC Record: * 2:07.06        2000 Matt Smith, Rose-Hulman                    
   SCAC Open: # 2:07.06             Smith, Rose-Hulman                         
  NCAA B CUT: ! 2:08.69                                                        
  NCAA A Cut: + 2:04.79                                                        
    Name                    Year School               Prelims     Finals Points 
===============================================================================
A - Final
  1 Marc Ricker               SR SEWANEE              2:15.47    2:10.43   20  
  2 Michael Sebastian         SR TRINITY              2:14.97    2:11.52   17  
  3 Sam Hopkins               FY TRINITY              2:15.67    2:13.28   16  
  4 Brock Sishc               FY DEPAUW               2:15.53    2:15.26   15  
  5 Gib Wallace               FY DEPAUW               2:15.73    2:15.85   14  
  6 Matt Hinman               SO DEPAUW               2:18.47    2:17.11   13  
  7 Matt Saunders             FY TRINITY              2:18.28    2:17.24   12  
  8 Michael Licatino          JR HENDRIX              2:19.15    2:20.26   11  
B - Final
  9 Todd Wallace              SR RHIT                 2:21.14    2:19.83    9  
 10 Clay Stewart              FY SEWANEE              2:21.10    2:19.89    7  
 11 Clay Taylor               FY DEPAUW               2:21.83    2:20.75    6  
 12 Tyler Anderson            FY RHIT                 2:23.72    2:23.65    5  
 13 John Boylan               FY RHIT                 2:27.74    2:24.89    4  
 14 Stephen Calender          JR CENTRE               2:24.76    2:26.43    3  
 15 Tyler Applegate           FY TRINITY              2:27.00    2:27.59    2  
 16 Zack Knutson              FY RHIT                 2:29.53    2:29.83    1  
 
Event 34  Men 200 Yard Butterfly
===============================================================================
 SCAC Record: * 1:53.71   2/22/2003 Ryan Van Der Kar, TRIN-                    
   SCAC Open: # 1:53.51   2/17/2001 Clint Troxel, DePauw                       
  NCAA B CUT: ! 1:55.39                                                        
  NCAA A Cut: + 1:52.59                                                        
    Name                    Year School               Prelims     Finals Points 
===============================================================================
A - Final
  1 Will Basinger             FY TRINITY              1:55.27    1:54.47!  20  
  2 Matt Martelli             SR SEWANEE              1:57.42    1:54.92!  17  
  3 Adam Effinger             FY RHIT                 1:55.59    1:55.60   16  
  4 Courtland Leer            FY SEWANEE              1:57.89    1:57.93   15  
  5 Padraic Chisholm          FY SEWANEE              2:03.05    2:02.79   14  
  6 Graham Ice                SR SOUTHWESTERN         2:02.72    2:03.39   13  
  7 Joe Fox                   JR DEPAUW               2:07.15    2:05.62   12  
  8 Matt Fosheim              SO DEPAUW               2:03.65    2:11.89   11  
 B - Final
  9 Zach Marquand             SO DEPAUW               2:10.21    2:08.70    9  
 10 Greg Croghan              FY RHIT                 2:15.84    2:17.22    7  
 11 Patrick Robertson         JR SOUTHWESTERN         2:26.42    2:19.85    6  
 12 Jared Keahey              SO HENDRIX              2:22.17    2:20.81    5  
 13 Adam Sollman              JR RHIT                 2:22.30    2:24.12    4  
 14 Nash Flores               SO SOUTHWESTERN         2:53.63    2:52.01    3  
 
Event 36  Men 400 Yard Freestyle Relay
===============================================================================
 SCAC Record: * 3:06.21        2001 Trinity                                    
   SCAC Open: # 3:06.21   2/17/2001                                            
                         Z Coburn, A Gnann, W Von Rosenberg, D Stentiford  
  NCAA B CUT: ! 3:08.99                                                        
  NCAA A Cut: + 3:03.99                                                        
  Davis Pool: @ 3:08.48   2/10/2005 Westlake High School                       
                         J Kozlowski, A Wang, C Cassidy, D Sweet           
    School                                               Seed     Finals Points 
===============================================================================
  1 DEPAUW UNIVERSITY  'A'                            3:13.34    3:10.45   40  
     1) Robert Alexander FY             2) Mike Mioduski SR               
     3) Peter Riggs FY                  4) Evan Kennel SR                 
  2 UNIVERSITY OF THE SOUTH  'A'                      3:22.89    3:11.43   34  
     1) Elliott Dement JR               2) Padraic Chisholm FY            
     3) Daniel Eley SO                  4) Ned Booker SR                  
  3 TRINITY UNIVERSITY  'A'                           3:16.94    3:11.78   32  
     1) Dan Petersen SO                 2) David Rivard JR                
     3) Matt Saunders FY                4) Dario Turjanski FY             
  4 ROSE-HULMAN INST. OF TECH.  'A'                   3:20.97    3:14.50   30  
     1) Aaron Knox JR                   2) Adam Effinger FY               
     3) Dan Freve SO                    4) Todd Wallace SR                
  5 CENTRE COLLEGE  'A'                               3:27.67   J3:18.42   28  
     1) Alex Brown FY                   2) Pat Ley FY                     
     3) Jason Woodall SO                4) Stephen Calender JR            
  6 RHODES COLLEGE  'A'                               3:29.87   J3:22.30   26  
     1) Eddie Han FY                    2) Wyatt Franks SO                
     3) Chris Ernst SO                  4) Eric Schumacher FY             
  7 HENDRIX COLLEGE SWIMMING  'A'                     3:44.76   J3:34.07   24  
     1) Michael Licatino JR             2) Brandon Turner SR              
     3) Zach Person FY                  4) Jared Keahey SO                
  8 SOUTHWESTERN UNIVERSITY  'A'                           NT   J3:40.11   22  
     1) Graham Ice SR                   2) Patrick Robertson JR           
     3) Nash Flores SO                  4) Steve Reynolds SR              
  9 UNIVERSITY OF THE SOUTH  'B'                      3:34.41   J3:17.45   18  
     1) Marc Ricker SR                  2) Kris Harmon FY                 
     3) Blake Ramsey FY                 4) Matt Martelli SR               
 10 TRINITY UNIVERSITY  'B'                           3:28.47   J3:18.99   14  
     1) Greg Martin JR                  2) Sam Hopkins FY                 
     3) Blair Boudousquie SO            4) Will Basinger FY               
 11 ROSE-HULMAN INST. OF TECH.  'B'                   3:33.11   J3:22.32   12  
     1) Jeff Andes SO                   2) Zack Tatlock FY                
     3) Adam Sollman JR                 4) Matt Wittstein SO              
 12 DEPAUW UNIVERSITY  'B'                            3:20.88   J3:22.71   10  
     1) Gib Wallace FY                  2) Gerry Wallace FY               
     3) Austin Diaz SR                  4) Ian Prunty SR                  
 13 CENTRE COLLEGE  'B'                                    NT   J3:30.67    8  
     1) Will Adams JR                   2) Nate Crimmins FY               
     3) Travis Pinnix SO                4) Matt Shuey JR                  
 14 HENDRIX COLLEGE SWIMMING  'B'                     4:04.66   J4:11.98    6  
     1) Derek Henderson SR              2) Greg Potter FY                 
     3) Mark Ayoub FY                   4) Storm Adams FY                 
 
Event 38  Men 1 mtr Diving
===============================================================================
 SCAC Record: * 471.45        1999 Jon Morris, Sewanee                         
   SCAC Open: # 516.35             Gooch                                       
  NCAA A Cut: + 435.00                                                         
  Davis Pool: @ 513.10   2/10/2005 Harrison Jones, KLEI-                       
    Name                    Year School                  Seed     Finals Points 
===============================================================================
  1 Ryan Cook                 FY TRINITY                   NT     427.20   20  
  2 Dustin Schulten           SO CENTRE                    NT     419.05   17  
  3 Jonathan Enenbach         JR DEPAUW                    NT     374.15   16  
  4 Greg Potter               FY HENDRIX                   NT     360.30   15  
  5 Dane Cooper               SO SEWANEE                   NT     355.05   14  
  6 Alex Davis                FY TRINITY                   NT     345.10   13  
  7 Joey Dodds                FY TRINITY                   NT     326.80   12  
  8 Derek Henderson           SR HENDRIX              -276.10     318.10   11  
  9 Isaac Nolan               SO RHIT                  213.55     274.45    9  
 10 David Hammond             SO RHODES                    NT     270.30    7  
 11 Eric Fenelon              JR RHIT                  180.10     261.80    6  
 12 John Sirmon               FY TRINITY                   NT     260.65    5  
 13 Bruce Taylor              SO SEWANEE                   NT     259.80    4  
 14 Mike Metroka              FY DEPAUW                    NT     238.30    3  
 15 Tyler Marler              FY RHIT                  145.85     220.45    2  
 16 Nader Abouelgubein        JR DEPAUW                    NT     203.10    1  
 17 Phillip Suggs             SR SEWANEE                   NT     102.75  
 18 Will Daugherty            SO CENTRE                    NT      85.45  

Back