Tigers hold on for SCAC win over Southwestern; Hanger nets career-high 19 on Senior Day
February 20, 2005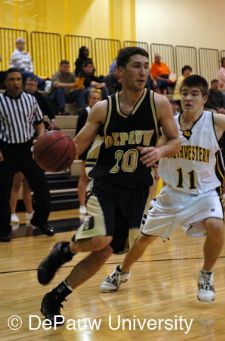 February 20, 2005, Greencastle, Ind. - DePauw jumped out to as much as a 22-point first-half lead and held off a late Southwestern rally to defeat the Pirates, 88-79. The Tigers improved to 12-12 overall and 6-8 in the Southern Collegiate Athletic Conference while Southwestern dropped to 19-6 overall and 11-3 in the conference.
The teams will square off again in the SCAC first round on Friday at 6 p.m. CST in Memphis at the Memphis University School. DePauw is seeded eighth and Southwestern first.
The Tigers hit eight of their first 10 shots and later extended a 15-10 lead to a 41-19 advantage. DePauw held a 41-21 lead at the intermission after shooting 62.5 percent in the half and knocking down six of nine three-pointers.
DePauw pushed the lead to as many as 24 in the second half at 55-31 before Southwestern started to close the gap. A 9-0 Pirates run capped by Mike Powell's three-pointer with 3:56 left cut DePauw's lead to 69-59.
The Pirates closed to within five at 82-77, but DePauw hit six straight free throws in the final 40 seconds to put the contest away. The Tigers hit 24 of 27 from the line including 19 of 20 in the second half.
"Defensively we really did a great job in the first half and for about the first 25 minutes or so," DePauw head coach Bill Fenlon said. "They they started driving and got into the bonus and we just weren't as aggressive."
Senior Joey Hanger played his final game in the Neal Fieldhouse and made the most of it with a career-high 19 points on five-of-six shooting from the floor including three-of-three from beyond the arc.
"He's (Hanger) done some really good things in his career. He hasn't done anything better than as the captain of this team in the last two months," Fenlon said. "I'm really happy for him."
Reid Sakel hit all 10 free throws on the way to matching his career best of 16 points.Todd Capes added 16 on six-of-seven shooting and Stephen Schott finished with 12 and a game-high six rebounds.
Aaron Bowser paced Southwestern with 21 followed by Dan Slezak with 16, Robert Cates with 12 and Powell with 11.
The Tigers hit a season-best 61.4 percent from the floor including nailing 10 of 15 three-pointers. Schott dished out a career-high five assists, while Jamonn Little led the Pirates with four.
Back