Tigers' comeback falls short in season opener
September 3, 2005
September 3, 2005, Greencastle, Ind. - Visiting Wesley College built a 24-point lead early in the third before DePauw rallied with 19 straight points, but Tiger quarterback Ross Wiethoff's pass was intercepted by Mario Harris in the end zone as time expired giving the Wolverines a 31-26 win in the season opener for both teams at Blackstock Stadium.
Wesley reached the board first on Chris Carlton's 44-yard field goal with 10:42 left in the first on a drive that started after the Wolverines recovered a DePauw fumble on the third play of the game.
The Tigers took their only lead of the game at 7-3 on Wiethoff's 1-yard run with 5:21 remaining in the first which capped a 10-play, 74-yard drive.
Larry Beavers put the Wolverines ahead for good with a 49-yard pass reception from Chris Warrick with 3:09 left in the quarter and Wesley extended the margin to 17-7 on Jon Lanouette's 14-yard catch from Warrick with 13:09 remaining in the half. Kevin Nelson's 2-yard run with 6:27 left in the half made it 24-7.
Wesley drove 74 yards in six plays in its opening series of the second half capped by Beavers' 27-yard reception from Warrick with 13:12 left in the third.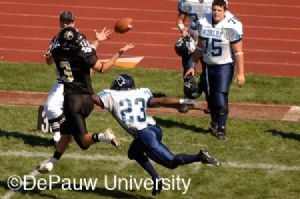 DePauw came right back with a 10-play, 78-yard drive with Jeremiah Marks scoring on a 4-yard run with 8:35 remaining in the quarter. Jon Drummond blocked Tyler Mallory's extra point attempt keeping the score at 31-13.
After stopping the Wolverines on downs, the Tigers scored on their next possession with Wiethoff teaming with Brian Culp for a 29-yard score with 2:14 left in the third to make it 31-20.
DePauw's defense again shut down Wesley on downs and the Tigers took over on their own 27. The hosts converted a third down on Wiethoff's 25-yard pass to Chase Jonason and a fourth-and-four from the Wesley 30 when the same two teamed for a 7-yard pass play. Faced with a fourth-and-six from the Wesley 19, Wiethoff's pitch was ruled a lateral which the Wolverines recovered at the 24.
Wesley picked up a first down, but was forced to punt from its own 37. The snap sailed over punter Jake Reuter's head and the Tigers took over on the Wesley 1-yard line. Marks got the call on the first play and scored to cut the gap to 31-26 with 6:47 left in the contest.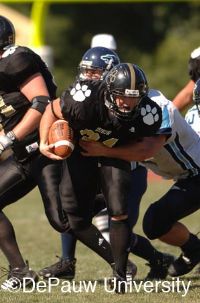 The Wolverines picked up three first downs including the final two on third down plays, but were forced to punt from the DePauw 38. The Tigers took over on their own 17 with 1:18 remaining. Wiethoff connected with Culp for a 19-yard fourth-down pass play that kept the drive alive. DePauw drove to the Wesley 45 with six seconds left before the Wolverines picked off Wiethoff's heave to the end zone.
DePauw outgained Wesley 374-322, but committed four turnovers to the Wolverines one. Warrick completed 15 of 32 passes for 226 yards and three touchdowns with Chris Barnes hauling in five and Beavers adding four catches for 106 yards and two scores. Kevin Nelson led Wesley with 74 yards in 22 carries and Alpha Koroma picked up 55 on just seven tries.
Marks paced the Tigers with 101 rushing yards in 25 carries and two touchdowns for his fifth 100-yard rushing game in just 10 career games. Wiethoff added 58 yards in 12 attempts. Wiethoff completed 14 of 30 passes for 186 yards and one score with six going to Culp for 102 yards and a touchdown. Jonason caught five passes for 58 yards.
Curran Clark led the Tigers with 10 tackles, while Greg Sylvester chipped in nine. Eric Lewis and Darron Lasley each had two quarterback hurries. DePauw's defense limited Wesley to just 99 yards in the second half. Harris paced Wesley with 13 tackles and William Buck followed with 12, while Bryan Robinson totaled three quarterback hurries. Robinson and Buck shared the game's only sack.
DePauw takes next week off before traveling to Hope on September 17. Wesley travels to Averett next Saturday.
Back