Tigers fall at Northwestern
December 23, 2005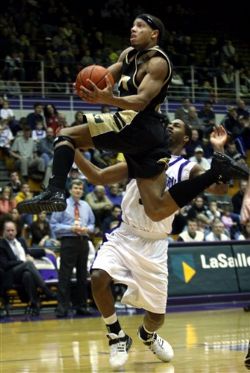 AP Photo/Stacie Freudenberg

December 23, 2005, Evanston, Ill. - Host Northwestern scored 19 straight points in the second half on the way to a 69-36 win at Welsh-Ryan Arena. DePauw dropped to 4-6 with the loss, while Northwestern improved to 6-4.
DePauw put together a 10-3 run early to tie the game at 12-12, but the Division I Wildcats used a 20-5 stretch on the way to a 34-22 halftime advantage. DePauw closed the gap to eight early in the second half before Northwestern went on a 19-0 run over a 10-minute stretch to put the game away.
Brian Oilar led DePauw with nine, while Alex Stewart and Mike Moore each added eight. Mohamed Hachad led Northwestern with 17 followed by Craig Moore with 12 and Vedran Vukusic with 11.
The Tigers shot just 29.4 percent from the floor, while Northwestern connected on 50 percent. The Wildcats held a 36-31 advantage on the boards and were led by Moore's eight. Alex Stewart led DePauw with six rebounds.
DePauw plays host to the Tampa Bay Shootout at Tampa Prep on December 29-30.
Back