Brown's halfcourt buzzer-beater sends Tigers to NCAA Championship
February 26, 2006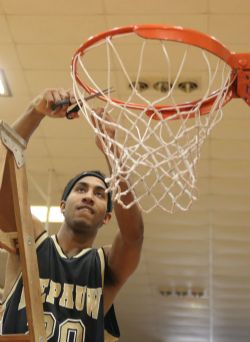 February 26, 2006, Memphis, Tenn. - Junior wing Austin Brown  nailed a halfcourt shot off glass at the buzzer
[Download Video: "See the Game-Winning Shot" - 1167kb], lifting DePauw to a 64-61 victory over Centre, a Southern Collegiate Athletic Conference title and a ticket to the NCAA Division III Championship.
The Tigers improved to 15-12 with their fifth straight win. Centre dropped to 19-8. NCAA Tournament information will be posted on Monday morning.
Centre's Coy Zerhusen hit two free throws with 21 seconds remaining to give the Colonels a 61-59 lead. Stephen Schott rebounded Reid Sakel's three-point attempt and was fouled with 3.6 seconds remaining. Schott hit both shots to tie the game.
The Tigers knocked the inbounds pass out near midcourt with two seconds left and then batted the ensuing inbounds pass away and Brown recovered before launching the game winner.
The contest was tight throughout with 13 ties and 12 lead changes. DePauw led by as many as six in the first half at 17-11 before the Colonels rallied to take a 29-24 advantage late in the half. DePauw led at the break, 34-33.
The Tigers extended the margin to as many as four at 41-37 before the Colonels scored nine straight to take a 46-41 advantage. Brown nailed a three-pointer and Matt McDonald scored a layup to tie the contest at 46-46 with 13:28 remaining. Neither team would gain more than a four-point lead the remainder of the game.
Schott hit a layup off of his own miss to give the Tigers a 59-57 edge with 1:40 left. Reggie Magnusson then tied the game with two free throws at the 1:24 mark before Zerhusen's layup.
Brown led the Tigers with 17 points and was named the tournament MVP, while Schott posted a double-double of 16 points and 14 rebounds and joined him on the all-tournament team. Magnusson paced Centre with 21 points and Jacobson added 18.
Alex Stewart (pictured) hit three three-pointers in the game and his first broke the DePauw career record of 232 held by Troy Greenlee (1987-91).
Back