Tigers advance to round of 16 with win over Maryville
March 4, 2006
March 4, 2006, Greencastle, Ind. - The fourth-ranked Tigers scored the game's first six points and never trailed on the way to an 86-58 NCAA Division III Women's Basketball Championship second-round win over visiting Maryville (Tenn.).

The win was the Tigers' 27th straight as they improve to 28-1 and move on to the round of 16, March 10. The Lady Scots finished the season at 23-7. DePauw will face Wheaton (Ill.) which defeated Maryville (Mo.), 75-48. The site of next weekend's sectional will be determined on Sunday.

The Tigers held a 27-18 lead with just over eight minutes left in the first half before Cassie Pruzin, Gretchen Haehl and Kalei Lowes each knocked down three-pointers to make it 36-18 with 6:13 remaining. DePauw led at the break, 48-28, on the strength of 59.3 percent shooting from the floor and hitting 6-of-10 from long range. The Lady Scots would get no closer the rest of the way.

"I was very proud of our defensive effort tonight from all five spots," DePauw head coach Kris Huffman said.

"We also did a nice job on the glass tonight and we need to do those things to win," she added.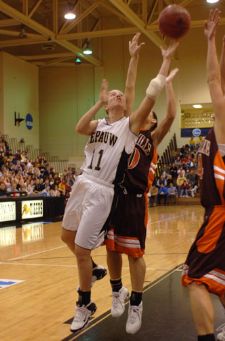 Four Tigers scored in double figures led by Liz Bondi's double-double of 19 points and 13 rebounds. Suzy Doughty followed with 17 points with Haehl adding 13 and Lowes 10. Doughty hit all six of her field goal tries as DePauw shot 56.3 percent for the game.
Andrea Plemons paced the Lady Scots with 17 points with Melissa Uner adding 16. The Saints shot 41.1 percent for the game.
DePauw held a decisive 39-21 advantage on the boards with Bridget Bailey adding seven to Bondi's 13. Lindsay Houin grabbed six. Four Maryville players finished with three boards each. Doughty, Haehl and Bondi each dished out four assists in the victory.
"DePauw shot the ball better from beyond the three-point line than they usually do," Mayville head coach Dee Bell said. "DePauw was physically stronger and went after it", he added.
Back