DePauw advances to NCAA quarterfinals with 69-60 win over Wheaton
March 10, 2006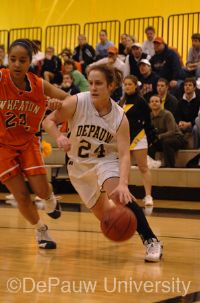 March 10, 2006, Greencastle, Ind. - Gretchen Haehl and Bridget Bailey came off the DePauw bench to score 18 and 16 points, respectively, and led the fourth ranked Tigers to a 69-60 victory over 14th-ranked Wheaton in the NCAA Division III Great Lakes/Central Sectional semifinal at the Neal Fieldhouse. DePauw improved to 29-1, while Wheaton finished its season at 25-5.
The Tigers advanced to the Saturday's Division III quarterfinals where they host Hope College on Saturday at 7 p.m. The Flying Dutch defeated Washington, 92-89, in the evening's first game. The two teams enter with the nation's longest win streaks as the Tigers have won 28 straight and Hope 27.
"We needed them (Haehl and Bailey)," DePauw head coach Kris Huffman said. "We needed Gretchen's shooting and Bridget's height."
DePauw used an 11-2 first-half run to expand a one-point lead to 10 on the way to a 35-25 halftime advantage. The Tigers built the margin to 12 early in the second half before the Thunder rallied with a 12-3 string capped by Chase Pouns' three-pointer with 12:01 left to make it 43-40.
Wheaton got as close as two at 55-53, but Haehl nailed a three with 4:13 left to push the margin to five. The Tigers still led by three before Cassie Pruzin hit her only bucket of the game; a three-pointer with the shot clock winding down to make it 62-56 with 2:37 left. The Thunder countered with a putback, but the Tigers scored the next five to put the game away.
Three Wheaton players scored in double figures with Elizabeth Fox, Brittany Cooper and Jill Trenz each scoring 13. Trenz added 14 rebounds for the double-double. DePauw outrebounded Wheaton 38-37 and Liz Bondi grabbed eight in the win.
DePauw, ranked eighth in the nation in field goal percentage, shot just 36.8 percent against the 22nd-ranked team in field goal percentage defense. However, the Tigers converted 21-of-27 free throws to Wheaton's 8-of-14.
"DePauw got to the foul line and made 21 of 27," Wheaton head coach Beth Baker said. "We didn't get there."
Back