Marks rushes for 200 yards and scores twice in final four minutes in 25-13 win
September 9, 2006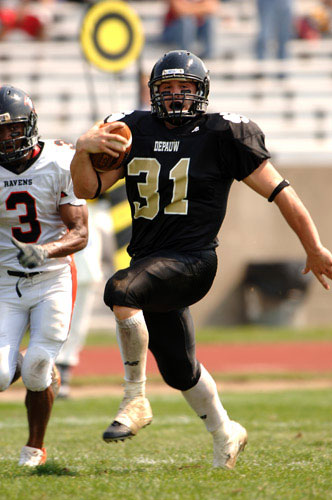 September 9, 2006, Greencastle, Ind. - DePauw junior running back Jeremiah Marks rushed for a career-high 200 yards and scored both of his touchdowns in the final four minutes as the Tigers defeated Anderson, 25-13, in DePauw's season opener. Anderson dropped to 1-1 with the loss. The win was also the first for DePauw head coach Matt Walker.
"Our guys did a great job of battling back after we fell behind," Walker said. "We have some things to work on, but it's a great win in the first game."
The visiting Ravens took a 13-12 lead on Denny Kimmel's 20-yard run with 13:29 left in the contest, but the Tigers grabbed the lead for good late in the fourth. Starting at its own 18, DePauw moved to the 38 on a pair of Abe Winkle runs that netted 20 yards. Marks then took over by covering 62 yards in the next five carries including the final four yards to make it 18-13 with 3:59 left. The big play in the drive came on third-and-three when Marks picked up 36 yards on a draw play.
Anderson started its ensuing possession on its own 12, but DePauw's Michael McNelis sacked Ravens quarterback Brock Vanderbush on third down for a 9-yard loss back to the Anderson 4. Following David Araiza's 16-yard punt return to the Anderson 26, Marks took the ball on the first play from scrimmage and scampered 26 yards for his second score of the game and Brendan Smith's extra point made it 25-13 with just 1:02 left.
DePauw opened the scoring in the first when Marks got the call from the Anderson 6, but fumbled into the end zone where Brett Claxton recovered for a touchdown. Smith's point-after made it 7-0 with 6:17 left in the first. The Tigers made it 9-0 on the first play of the second quarter after the Ravens' punt snap sailed out of the end zone for a safety. The Tigers limited Anderson to just 10 rushing yards in the first half and only 57 total yards in 31 plays.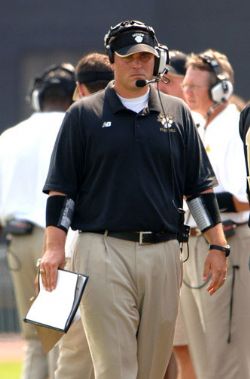 The Ravens reached the board in the third quarter as Vanderbush completed a 9-yard pass to Nel Zebelian with 9:09 left in the third capping an 8-play, 55-yard drive. On DePauw's next series Smith nailed a 36-yard field goal with 4:55 left in the third.
Marks' 200 yards came on 32 carries and are the second-most yards in DePauw history behind Terry Dickey's 202 against Anderson in 1990. He moved into sixth place with 2,003 career rushing yards and 174 career points. Winkle completed eight of 19 passes for 84 yards. Marks, Araiza and Steve Horrighs each caught two passes.
Kimmel rushed for 100 yards on 14 carries to lead the Ravens. Vanderbush completed 13 of 25 passes for 101 yards. Maurice Swain caught five passes with Jake Scott adding four.
DePauw totaled 297 yards including 213 on the ground, while Anderson finished with 211 total yards and just 97 rushing.
Eric Lewis paced the Tigers with 12 tackles including three for losses of 15 yards and one sack, while Andy Brandstatter totaled nine tackles. McNelis finished with four tackles for loss including 1.5 sacks.
Jonathon Powers paced Anderson with eight tackles with Brian Collier and Hyman Smith each finishing with seven. Scott Morrow led the way with 1.5 of Anderson's three sacks.
DePauw hosts Hope at noon on Saturday, September 16, while Anderson travels to Earlham next Saturday.
Back