Southwestern tops DePauw in first SCAC Divisional Playoff game
April 20, 2007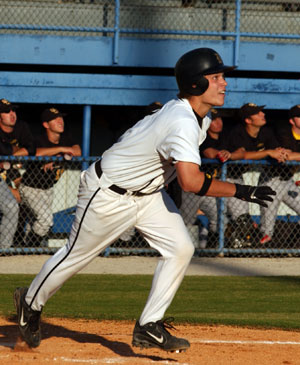 April 20, 2007, Millington, Tenn. - Eric Gonzales' sixth-inning sacrifice fly scored Jamie Herrmann and lifted Southwestern to a 3-2 victory over DePauw in the opening game of their Southern Collegiate Athletic Conference best-of-three divisional playoff series at USA Stadium.
DePauw dropped to 23-15 overall, while the Pirates improved to 18-22. The two teams square off in the game two on Saturday at 5 p.m. CDT. Links to tournament live stats and broadcasts is available here.
The Tigers jumped out to a 1-0 lead in the bottom of the first when Matt Kleine drew a two out walk  and scored on Adam Ford's double to right center.
Southwestern took a 2-1 lead in the second when Michael Murphy led off with a triple off the wall in left and scored on Herrmann's sacrifice fly to left. Brad Culling followed with a triple to left center and scored on Gonzales' single to center.
Drew Holy led off the bottom of the fourth with a solo homer to right (pictured) which tied the score at 2-2. In the fifth, DePauw had runners on first and second with two out and Ford drilled a single to right, but Jeremy Dickinson was thrown out at the plate.
Andy Morrison improved to 8-4 after striking out six in pitching the complete game. Jeremy Alland dropped to 5-2 on the season after striking out four with no walks in the nine-inning complete game.
Culling led Southwestern with three hits, while Gonzales added a pair of the Pirates' 10. Gonzales also added two RBI. Ford, Holy and Jack Gavin each had two of DePauw's eight hits in a losing effort.
Back