Three Tigers Earn All-SCAC Honors; Lowes and Huffman Take Special Honors
March 1, 2008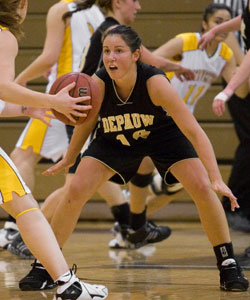 March 1, 2008, Conway, Ark. - In voting by the conference's head coaches three DePauw players earned all-Southern Collegiate Athletic Conference women's basketball honors and two Tigers earned special honors. The announcement was made at halftime of tonight's second semfinal game. The complete team is available here.
Senior Kalei Lowes (pictured right) was voted the SCAC's Defensive Player of the Year for the second straight year as she spearheaded the Tigers' defensive efforts in leading the conference in scoring defense by allowing opponents just 56.7 points per game.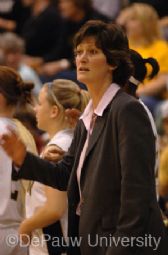 Head coach Kris Huffman (pictured left) was named the SCAC Coach of the Year for the third straight season and the sixth time in the Tigers' 10 seasons in the conference. Overall, she has earned eight conference coach of the year honors in her 15 seasons. This season Huffman led DePauw to a perfect 14-0 SCAC record and has amassed a 328-85 career mark.
Junior Cassie Pruzin (pictured below) earned first team honors after being named honorable mention in 2007. She finished second in overall voting and picked up a pair of player of the year votes.
Through the SCAC quarterfinals, Pruzin ranks second in the conference in three-point shooting at 39.5 percent, third in both assists with 4.4 per game and assist-to-turnover ratio at 1.6. She is fourth in steals with 2.5 per contest and seventh in both free throw shooting at 82.8 percent and three-pointers made with 1.9 per game. Pruzin also is 11th with 13.7 points per game and 12th with 6.5 rebounds.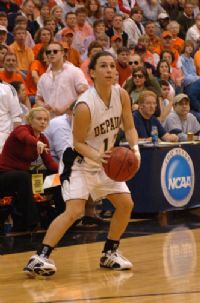 Sophomore Jenna Fernandez was named to the second team in her first appearance on the all-conference squad. She ranks fourth in conference play with 53.7 percent field goal shooting, is ninth with 14.7 points per game and 14th with 6.4 rebounds per contest.
Senior Gretchen Haehl was named to the third team for the third consecutive year. She leads the conference with a 1.7 assist-to-turnover ratio and is fifth in both three-point shooting at 37.1 percent and with 4.1 assists per game.
The 24-3 Tigers play for the Southern Collegiate Athletic Conference championship tomorrow at 2:30 p.m. CST.
Back