Sixth-ranked Tigers Head to Third Straight Sectional; Face Amherst Friday
March 13, 2008
HOST SITE | WGRE BROADCAST | LIVE STATS | GAME NOTES | D3HoopsNet BROADCAST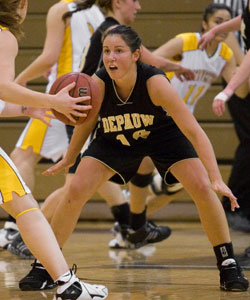 March 13, 2008, Greencastle, Ind. - Coming off wins over Denison (70-53) and Washington-St. Louis (73-66), the sixth-ranked and 27-3 Tigers compete in their third straight sectional semifinal (round of 16) contest as they face 14th-ranked Amherst (27-2).
Tipoff from Kachel Gym in the University of Wisconsin-Whitewater's Williams Center is set for 6 p.m. CDT on Friday. The second sectional semifinal contest features ninth-ranked Simpson (27-2) against eighth-ranked Wisconsin-Whitewater (26-3) at 8 p.m.
The winners meet on Saturday for the right to advance to the NCAA Division III Semifinals on Friday, March 21, at Hope College. Complete information on the sectional is available here. Links to the WGRE audio, live stats and game notes are available at the top of the page.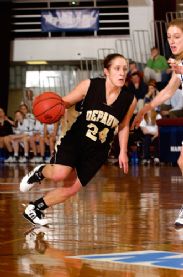 After winning the Southern Collegiate Athletic Conference tournament, DePauw earned its fifth straight NCAA tournament appearance and ninth in the last 13 years.
The defending national champions are ranked sixth by D3hoops.com and in the USA Today/ESPN Coaches' poll and have won at least 20 games each of the last eight seasons and in 12 of the last 13 years. The Tigers also have won at least 27 games each of the last three years.
Jenna Fernandez leads three DePauw double-figure scorers with 14.6 points per game and, along with Cassie Pruzin grabs a team-best 6.4 rebounds per game. Fernandez hits a team-best 51.9 percent of her field goal tries.
Pruzin follows with 13.7 points per outing and leads the squad with 59 three-pointers, 4.3 assists per game and 2.6 steals per outing. Gretchen Haehl averages 10.4 points per game including 17.5 over her last four contests.
The Tigers enter the sectional with a 17-7 record in NCAA tournament play and on an eight-game postseason win streak. DePauw's .708 tournament winning percentage ranks second in Division III among teams with 20 games played.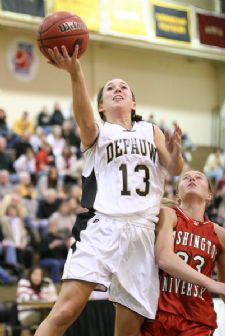 DePauw ranks 12th in the nation with a rebound margin of +10.0 and is 19th with just 15.4 turnovers per game. The Tigers also rank 23rd in scoring margin (+15.4) and 25th in assist/turnover ratio (0.97).
Amherst earned its first-ever NCAA tournament appearance by winning the New England Small College Athletic Conference (NESCAC) title. The Lord Jeffs then hosted first and second-round games and defeated Becker (78-32) and conference rival Bowdoin (61-60).
Making the first NCAA appearance in program history, Amherst is led by Steffanie Reiff with 12.3 points per contest and Shaina Pollack with 11.6. Pollack has hit a team-best 46 three-pointers and averages 4.8 assists. Sarah Leyman leads the way with 6.1 rebounds per contest including 3.5 on the offensive glass.
The Lord Jeffs enter the sectional ranked ninth in Division III in field goal percentage (45.7), 10th in scoring margin (21.3), 12th in assist/turnover ratio (1.04) and 13th in both rebound margin (9.7) and three-point percentage (37.1).
Back