Four Tigers Selected to All-Academic Track and Field Team
July 11, 2008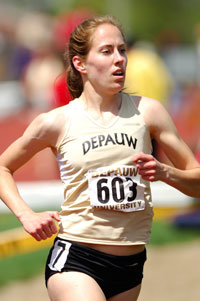 July 11, 2008, Greencastle, Ind. - Four members of the DePauw women's track and field team are among the 232 named to the 2008 United States Track & Field and Cross Country Coaches Association (USTFCCCA) All-Academic Track and Field Team.
May cum laude graduates Katie Gernand (right) and Taylor Penrod (left) as well as senior Adrienne Cobb and junior Alison Case earned spots on the team.
The USTFCCCA honors Division III individuals for their academic and athletic achievements during the indoor and outdoor track and field season.
To qualify for the USTFCCCA All-Academic Track and Field Team, the student-athlete must have compiled a cumulative grade point average of 3.25 and have met the NCAA Division III Indoor or Outdoor automatic or provisional qualifying standard in their respective event.
Back