Tigers Finish 26th at NCAA Championships; Reich Earns All-America Honors
November 22, 2008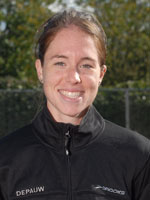 November 22, 2008, Hanover, Ind. -Paced by Lauren Reich's all-America performance, the 18th-ranked Tigers totaled 528 points and finished 26th at the NCAA Division III Championships.
Reich (pictured) covered the 6K course in 21:35.0 and finished 27th. Ellen Mail placed 163rd in 22:59.32 followed by Julie Theibert in 179th in 23:09.05 and Claire Hollis in 185th in 23:12.70.
Alison Case finished in 189th in 23:16.02, while Melissa Buckley was 197th in 23:18.76 and Leah Seigel finished 203rd in 23:21.41.
Middlebury won the team title with 179 points, while Bethel's (Minn.) Marie Borner won in 20:43.91.
The appearance was DePauw's fifth straight.
 FinishTiming - Contractor License                           HY-TEK's Meet Manager
                      NCAA Div III National XC Championships                      
                     Timing & Results by www.Finishtiming.com                     
                                 Hanover College                                  
                               Last Completed Event                               
 
Event 10  Women 6k Run CC
==================================================================================
    Name                    Year School                Avg Mile     Finals  Points
==================================================================================
  1  #355 Borner, Marie       JR Bethel (Minn.)          5:33.7   20:43.91    1   
  2  #349 Tropiano, Elise     SR Amherst                 5:36.1   20:52.96    2   
  3  #989 Mitchell, Ayla      JR Wis.-Oshkosh            5:38.8   21:02.91    3   
  4  #945 Coffman, Maddie     SR Willamette              5:39.6   21:05.97    4   
  5  #843 Spelts, Jackie      JR Nebraska Wesleyan       5:41.1   21:11.42        
  6  #824 Krieg, Alexandra    SR Middlebury              5:41.8   21:14.17    5   
  7  #871 Scherer, Jenny      JR St. Norbert             5:42.4   21:16.33        
  8  #999 Schaffhouser, Jenn  JR Plattsburgh State       5:42.5   21:16.73        
  9  #421 Navarre, Katie      SO Denison                 5:42.6   21:17.30        
 10  #480 Iott, Allison       SR Kalamazoo               5:43.0   21:18.50        
 11  #902 McNamara, Stephani  SO Tufts                   5:44.4   21:23.71        
 12  #997 Scott, Jessica      SR Wis.-Platteville        5:44.6   21:24.75        
 13  #883 Theisen, Katie      SR St. Thomas (Minn.)      5:44.7   21:24.91    6   
 14  #994 Jordahl, Becca      JR Wis.-River Falls        5:44.7   21:25.11        
 15  #803 Dobyns, Janet       SR Luther                  5:45.7   21:28.79    7   
 16  #493 Corken, Mary Bridg  SR Loras                   5:46.2   21:30.70        
 17  #900 Loeffler, Emily     SR Trinity (Tex.)          5:46.3   21:31.04    8   
 18  #362 Monjar, Anne        SR Bowdoin                 5:46.4   21:31.44        
 19  #959 Philbrook, Lauren   SR Williams                5:46.5   21:31.69    9   
 20  #869 Pavlus, Wendy       SO St. Lawrence            5:46.6   21:32.19   10   
 21  #364 Bergstrom, Lauren   JR Calvin                  5:46.7   21:32.56   11   
 22  #850 Freese, Alicia      JR Pomona-Pitzer           5:46.8   21:32.83   12   
 23  #471 Nadolski, Lindsey   SR Ithaca                  5:47.2   21:34.26   13   
 24  #912 Kraayenbrink, Anna  JR Wartburg                5:47.3   21:34.56   14   
 25  #889 McGrath, Martine    SR Tcnj                    5:47.3   21:34.73   15   
 26  #970 Palmer, Mary        SR Wis.-Eau Claire         5:47.3   21:34.82   16   
 27  #427 Reich, Lauren       JR DePauw                  5:47.4   21:35.00   17   
 28  #388 Jeroski, Justine    SO Case Western            5:47.5   21:35.40   18   
 29  #417 Palen, Andi         SO Cortland State          5:47.6   21:35.63   19   
 30  #929 Surtees, Taryn      SO Washington U.           5:47.7   21:36.03   20   
 31  #478 Paulsen, Laura      JR Johns Hopkins           5:48.0   21:37.36   21   
 32  #845 Johnson, Joanna     SO Oberlin                 5:48.1   21:37.70        
 33  #401 Schnell, Ashley     SO Coe                     5:48.2   21:37.96        
 34  #389 Kumley, Britta      SR Case Western            5:49.2   21:41.76   22   
 35  #857 Stephens, Taylor    FR Rhodes                  5:50.0   21:44.90        
 36  #404 Knight, Cassandra   JR Colby                   5:50.1   21:45.06   23   
 37  #985 Cazzola, Christy    FR Wis.-Oshkosh            5:50.5   21:46.75   24   
 38  #461 Seward, Julia       SR Grove City              5:51.2   21:49.14        
 39  #826 Meier, Hannah       SO Middlebury              5:52.1   21:52.56   25   
 40  #490 Kirby, Jackie       SR Keystone                5:52.7   21:54.62        
 41  #477 Patel, Mira         JR Johns Hopkins           5:52.7   21:54.94   26   
 42  #370 Schlabach, Calah    SR Calvin                  5:53.0   21:55.90   27   
 43  #873 Meger, Katelyn      JR St. Scholastica         5:53.3   21:56.94        
 44  #983 Williams, Katelyn   JR Wis.-La Crosse          5:53.4   21:57.48   28   
 45  #492 Klimek, Marci       JR Linfield                5:53.4   21:57.53        
 46  #454 Iafrati, Laura      SR Geneseo State           5:53.8   21:58.82   29   
 47  #458 Smith, Alyssa       FR Geneseo State           5:54.3   22:00.72   30   
 48  #903 Wilfert, Amy        SO Tufts                   5:54.4   22:01.00        
 49  #403 Gravel, Katrina     JR Colby                   5:54.7   22:02.11   31   
 50  #398 Ross, Evelyn        SR C-M-S                   5:54.8   22:02.54   32   
 51  #894 Arthur, D'Ann       SR Trinity (Tex.)          5:54.8   22:02.69   33   
 52  #930 Neville, Ravenna    JR Wesleyan                5:54.9   22:02.92        
 53  #462 Branigan, Margot    JR Hamline                 5:55.0   22:03.43        
 54  #841 Wentz, Jacqui       JR Mit                     5:55.2   22:04.23   34   
 55  #966 Easker, Beth        SO Wis.-Eau Claire         5:55.4   22:04.73   35   
 56  #908 Johnson, Christa    SR Ursinus                 5:55.4   22:04.95        
 57  #827 Moody-Roberts, Eli  FR Middlebury              5:55.4   22:04.97   36   
 58  #907 Murphy, Mikayla     SO UC Santa Cruz           5:55.5   22:05.31        
 59  #865 Hulton, Jenna       FR St. Lawrence            5:55.6   22:05.43   37   
 60  #481 McLaughlin, Jillia  JR Kalamazoo               5:55.6   22:05.53        
 61  #375 Childs-Walker, Sim  FR Carleton                5:55.8   22:06.54   38   
 62  #379 Roach, Laura        JR Carleton                5:56.0   22:07.00   39   
 63  #895 Eder, Liz           SR Trinity (Tex.)          5:56.3   22:08.32   40   
 64  #811 Sullivan, Hayley    SO Mary Washington         5:56.6   22:09.25        
 65  #410 Hawkins, Rachelle   SR Cornell College         5:56.6   22:09.32        
 66  #935 Baumert, Lisa       SR Wheaton (Ill.)          5:56.7   22:09.58   41   
 67  #394 Harris, Katie       SR C-M-S                   5:56.7   22:09.87   42   
 68  #957 Kuntz, Robin        SR Williams                5:56.9   22:10.43   43   
 69  #867 Ludington, Johanna  JR St. Lawrence            5:56.9   22:10.62   44   
 70  #914 Kuiken, Jennifer    JR Wartburg                5:57.2   22:11.43   45   
 71  #980 Johnson, Megan      SR Wis.-La Crosse          5:57.3   22:11.81   46   
 72  #344 Galleher, Sophia    JR Amherst                 5:57.4   22:12.26   47   
 73  #961 Shea, Meghan        SO Williams                5:57.5   22:12.72   48   
 74  #842 Beyer, Mary Kate    SO Monmouth (Ill.)         5:57.5   22:12.78        
 75  #884 Woodruff, Alycia    SO Susquehanna             5:57.7   22:13.48        
 76  #954 Winger, Jena        SR Willamette              5:57.8   22:13.99   49   
 77  #405 Linhard, Emma       SO Colby                   5:58.3   22:15.53   50   
 78  #825 McIlvennie, Claire  FR Middlebury              5:58.6   22:16.86   51   
 79  #960 Scofield, Bret      JR Williams                5:58.6   22:16.86   52   
 80  #913 Kuiken, Amanda      JR Wartburg                5:59.0   22:18.24   53   
 81  #872 Carlson, Jennifer   SR St. Olaf                5:59.1   22:18.58        
 82  #926 Phillips, Elizabet  FR Washington U.           5:59.1   22:18.84   54   
 83  #932 Arouca, Kerry       JR Westfield State         5:59.4   22:19.83        
 84  #855 Scharfen, Anna      SR Pomona-Pitzer           5:59.4   22:19.87   55   
 85  #453 Hunt, Danielle      JR Geneseo State           5:59.5   22:20.23   56   
 86  #856 Covic, Cybil        JR Rhodes                  6:00.0   22:21.97        
 87  #463 Lipman, Emily       FR Haverford               6:00.1   22:22.40        
 88  #367 Hale, Jesi          JR Calvin                  6:00.1   22:22.41   57   
 89  #361 Potter, Alex        FR Bethel (Minn.)          6:00.1   22:22.50   58   
 90  #365 Edwards, Kelly      JR Calvin                  6:00.3   22:23.04   59   
 91  #879 Russ, Kelly         JR St. Thomas (Minn.)      6:00.4   22:23.34   60   
 92  #858 Gollub, Sarah       JR Rochester               6:00.7   22:24.61        
 93  #909 Spangler, Johanna   FR Vassar                  6:01.0   22:25.66        
 94  #353 Scullion, Ashley    SR Baldwin-Wallace         6:01.2   22:26.51        
 95  #802 Cerbin, Flannery    SR Luther                  6:01.5   22:27.70   61   
 96  #944 Callaway, Michele   FR Whittier                6:01.7   22:28.23        
 97  #847 Owens, Kelsey       SR Pacific (Ore.)          6:01.7   22:28.34        
 98  #823 Cramer, Margo       FR Middlebury              6:01.9   22:29.05   62   
 99  #973 Sybilrud, Alyssa    FR Wis.-Eau Claire         6:01.9   22:29.22   63   
100  #363 Conn, Kelsey        SO Brockport State         6:02.0   22:29.62        
101  #931 Wheatley, Liz       SR Wesleyan                6:02.2   22:30.10        
102  #928 Schlamb, Molly      JR Washington U.           6:02.4   22:31.08   64   
103  #357 Jelen, Heather      JR Bethel (Minn.)          6:02.5   22:31.26   65   
104  #801 Bennett, Elise      SR Luther                  6:02.7   22:32.19   66   
105  #464 Plummer, Lolly      FR Hendrix                 6:02.8   22:32.62        
106  #435 McDonald, Darcy     SR Dickinson               6:03.0   22:33.30   67   
107  #943 Ballinger, Kristen  SO Whitman                 6:03.0   22:33.35        
108  #893 Wallace, Michelle   JR Tcnj                    6:03.2   22:34.04   68   
109  #440 Kulp, Tiffany       SR Elizabethtown           6:03.4   22:34.59        
110  #449 Jones, Melissa      SR Emory                   6:03.5   22:35.01   69   
111  #836 Holt-Gosselin, Ann  SO Mit                     6:03.5   22:35.12   70   
112  #446 Gallegos, Tess      FR Emory                   6:03.6   22:35.39   71   
113  #833 Doyle, Jennifer     SR Mit                     6:03.6   22:35.42   72   
114  #861 Youngs, Nora        SR Smith                   6:03.9   22:36.52        
115  #921 Webb, Elizabeth     SR Washington & Lee        6:04.1   22:37.21        
116  #822 Brown, Cate         FR Middlebury              6:04.1   22:37.28   73   
117  #995 Haen, Kelly         SO Wis.-Stevens Point      6:04.2   22:37.62        
118  #982 Moss, Lauren        SR Wis.-La Crosse          6:04.2   22:37.64   74   
119  #451 Waryck, Natalie     SR Emory                   6:04.3   22:37.87   75   
120  #832 Bradshaw, Andrea    SR Mit                     6:04.3   22:37.97   76   
121  #411 Brunetto, Brittany  SR Cortland State          6:04.3   22:37.98   77   
122  #918 VanOosbree, Emily   SR Wartburg                6:04.4   22:38.27   78   
123  #412 Dalton, Alyson      FR Cortland State          6:04.4   22:38.43   79   
124  #385 Fischione, Andrea   SO Case Western            6:04.6   22:39.17   80   
125  #397 Rigby, Julia        FR C-M-S                   6:04.7   22:39.38   81   
126  #456 Marks, Erin         JR Geneseo State           6:04.8   22:39.99   82   
127  #371 Smit, Elizabeth     JR Calvin                  6:05.0   22:40.59   83   
128  #852 Kieselhorst, Maddy  SR Pomona-Pitzer           6:05.0   22:40.70   84   
129  #876 Metzler, Allie      SO St. Thomas (Minn.)      6:05.0   22:40.77   85   
130  #950 Patel, Tina         JR Willamette              6:05.1   22:41.16   86   
131  #460 Carter, Kristen     SR Grove City              6:05.2   22:41.24        
132  #414 Hollborn, Alanna    JR Cortland State          6:05.3   22:41.62   87   
133  #963 Teitsworth, Elly    JR Williams                6:05.3   22:41.84   88   
134  #415 Holt, Lisa          JR Cortland State          6:05.6   22:42.82   89   
135  #805 Eckerman, Becky     JR Luther                  6:05.7   22:43.17   90   
136  #491 Palmer, Hannah      SO Lewis & Clark           6:05.9   22:44.16        
137  #474 Hiza, Emma          SR Johns Hopkins           6:06.2   22:44.95   91   
138  #940 Parisi, Jennifer    SO Wheaton (Ill.)          6:06.2   22:45.31   92   
139  #392 Wampler, Amy        JR Christopher Newport     6:06.8   22:47.50        
140  #955 Asher, Rachel       SR Williams                6:07.3   22:49.33   93   
141  #917 Tlach, Lori         SO Wartburg                6:07.5   22:50.09   94   
142  #905 Venezia, Rachel     SR U. of Chicago           6:07.7   22:50.69        
143  #359 Mork, Kristin       SO Bethel (Minn.)          6:07.7   22:50.85   95   
144  #979 Horn, Michelle      SR Wis.-La Crosse          6:07.9   22:51.58   96   
145  #967 Humbach, Hannah     JR Wis.-Eau Claire         6:07.9   22:51.60   97   
146  #981 Kolinski, Alison    JR Wis.-La Crosse          6:08.2   22:52.62   98   
147  #972 Smith, Jenna        JR Wis.-Eau Claire         6:08.3   22:52.84   99   
148  #992 Scheer, Jessie      SR Wis.-Oshkosh            6:08.4   22:53.40  100   
149  #465 Baumbach, Heidi     FR Ithaca                  6:08.5   22:53.60  101   
150  #840 O'Brien, Janice     FR Mit                     6:08.6   22:53.97  102   
151  #487 O'Connor, Morgan    FR Kenyon                  6:08.6   22:54.00  103   
152  #901 Masse, Caitlin      SO Trinity (Tex.)          6:08.6   22:54.25  104   
153  #828 Spring, Sophia      SO Middlebury              6:08.7   22:54.59  105   
154  #807 McKay, Annie        SO Luther                  6:08.9   22:55.16  106   
155  #882 Spoon, Emma         FR St. Thomas (Minn.)      6:09.0   22:55.54  107   
156  #920 Shaw, Jessica       SR Washington & Lee        6:09.2   22:56.23        
157  #947 Lewis, Molly        JR Willamette              6:09.2   22:56.30  108   
158  #927 Rathnam, Hope       JR Washington U.           6:09.5   22:57.45  109   
159  #938 Greeley, Sara       SO Wheaton (Ill.)          6:09.7   22:58.26  110   
160  #374 Campbell, Karen     SR Carleton                6:09.8   22:58.43  111   
161  #431 Campbell, Catherin  FR Dickinson               6:09.8   22:58.57  112   
162  #904 Lawton, Elizabeth   SO U. of Chicago           6:09.9   22:58.96        
163  #426 Mail, Ellen         JR DePauw                  6:10.0   22:59.32  113   
164  #473 Furlong, Cecilia    FR Johns Hopkins           6:10.1   22:59.55  114   
165  #816 Kooser, Jennifer    SO Messiah                 6:10.3   23:00.46  115   
166  #445 Flink, Rebecca      JR Emory                   6:10.3   23:00.47  116   
167  #390 Simpson, Elaine     JR Case Western            6:10.5   23:01.05  117   
168  #939 Page, Hannah        JR Wheaton (Ill.)          6:10.6   23:01.60  118   
169  #399 Rueschenberg, Ally  JR C-M-S                   6:10.8   23:02.22  119   
170  #820 Rhodes, Erin        JR Messiah                 6:10.8   23:02.34  120   
171  #975 Bennwitz, Kristina  SO Wis.-La Crosse          6:11.0   23:03.06  121   
172  #834 Eve, Katherine      FR Mit                     6:11.5   23:04.78  122   
173  #416 McGrath, Erin       SR Cortland State          6:11.5   23:04.82  123   
174  #925 Jackey, Erica       FR Washington U.           6:11.5   23:05.06  124   
175  #859 Norton, Lauren      FR Rochester               6:11.9   23:06.53        
176  #874 DeGrio, Raynee      SO St. Thomas (Minn.)      6:12.0   23:06.90  125   
177  #887 Donovan, Megan      JR Tcnj                    6:12.1   23:07.04  126   
178  #993 Wondra, Katie       SR Wis.-Oshkosh            6:12.1   23:07.30  127   
179  #430 Theibert, Julie     SR DePauw                  6:12.6   23:09.05  128   
180  #475 Hogen, Rachel       SR Johns Hopkins           6:12.9   23:10.13  129   
181  #924 Hartman, Angela     JR Washington U.           6:13.0   23:10.30  130   
182  #352 Hlavin, D'Arcy      JR Baldwin-Wallace         6:13.0   23:10.65        
183  #814 Higgins, Mary       FR Messiah                 6:13.2   23:11.06  131   
184  #899 Krissy, Ford        SO Trinity (Tex.)          6:13.3   23:11.67  132   
185  #425 Hollis, Claire      FR DePauw                  6:13.6   23:12.70  133   
186  #366 Farr, Nicole        JR Calvin                  6:13.7   23:13.18  134   
187  #432 Hamilton, Mary      JR Dickinson               6:13.8   23:13.54  135   
188  #806 Lundine, Sarah      SO Luther                  6:14.0   23:14.23  136   
189  #423 Case, Alison        JR DePauw                  6:14.5   23:16.02  137   
190  #376 ffitch, Taylor      FR Carleton                6:14.5   23:16.04  138   
191  #937 Bentz, Martha       FR Wheaton (Ill.)          6:14.6   23:16.55  139   
192  #402 FitzPatrick, Devan  SR Colby                   6:14.7   23:16.76  140   
193  #860 Kyle, Erin          JR Rpi                     6:14.8   23:17.25        
194  #838 Monks, Maria        JR Mit                     6:14.9   23:17.51  141   
195  #851 Haag, Rose          JR Pomona-Pitzer           6:14.9   23:17.73  142   
196  #936 Beasley, Sarah      JR Wheaton (Ill.)          6:15.1   23:18.22  143   
197  #422 Buckley, Melissa    JR DePauw                  6:15.2   23:18.76  144   
198  #377 Forzley, Sarah      JR Carleton                6:15.4   23:19.58  145   
199  #470 McCormick, Melanie  JR Ithaca                  6:15.6   23:20.01  146   
200  #888 Herrick, Stephanie  SR Tcnj                    6:15.6   23:20.27  147   
201  #951 Polanco, Edith      SR Willamette              6:15.7   23:20.56  148   
202  #380 Smyth, Alison       FR Carleton                6:15.7   23:20.56  149   
203  #428 Seigel, Leah        SR DePauw                  6:15.9   23:21.41  150   
204  #991 Piskor, Jenny       SO Wis.-Oshkosh            6:16.0   23:21.69  151   
205  #488 Ostrowksi, Chrissy  SO Kenyon                  6:16.3   23:22.71  152   
206  #880 Schminski, Nikki    FR St. Thomas (Minn.)      6:16.3   23:22.75  153   
207  #977 Browne, Zoe         JR Wis.-La Crosse          6:16.4   23:23.03  154   
208  #348 Schwab, Hallie      SO Amherst                 6:16.5   23:23.49  155   
209  #438 Powell, Kim         SO Dickinson               6:16.6   23:23.94  156   
210  #450 Shaughnessy, Megan  SR Emory                   6:16.8   23:24.48  157   
211  #942 Zeller, Brooke      SR Wheaton (Ill.)          6:16.8   23:24.58  158   
212  #406 MacDowell, Jennife  SR Colby                   6:16.8   23:24.62  159   
213  #395 Martin, Rachael     SR C-M-S                   6:17.1   23:25.58  160   
214  #439 Trosch, Becca       SR Dickinson               6:17.2   23:26.08  161   
215  #484 Francois, Jessica   SR Kenyon                  6:17.3   23:26.68  162   
216  #878 Rassett-Mehl, Alys  SO St. Thomas (Minn.)      6:17.7   23:27.98  163   
217  #466 Boccio, Amanda      JR Ithaca                  6:17.9   23:28.78  164   
218  #906 Hendricks, Carina   SR UC Santa Cruz           6:17.9   23:28.91        
219  #387 Heffernan, Colleen  JR Case Western            6:18.0   23:29.03  165   
220  #482 Brady, Lauren       SO Kenyon                  6:18.0   23:29.04  166   
221  #381 Specht, Hannah      SR Carleton                6:18.6   23:31.31  167   
222  #383 Cabrera, Natalia    FR Case Western            6:18.8   23:32.02  168   
223  #853 Meyers, Zoe         JR Pomona-Pitzer           6:19.3   23:34.05  169   
224  #804 Dolan, Katie        JR Luther                  6:19.5   23:34.59  170   
225  #437 Pfeiffer, Kristina  JR Dickinson               6:19.7   23:35.58  171   
226  #844 Kanarkiewicz, Joan  FR Nyu                     6:20.1   23:37.09        
227  #457 McGrath, Mary       SR Geneseo State           6:20.9   23:39.84  172   
228  #890 Nestor, Katie       FR Tcnj                    6:20.9   23:39.99  173   
229  #407 McCall, Nora        SO Colby                   6:21.1   23:40.74  174   
230  #467 Currier, Kasey      SR Ithaca                  6:21.2   23:40.95  175   
231  #866 Kaagan, Jenny       FR St. Lawrence            6:21.3   23:41.43  176   
232  #919 White, Brendelyn    JR Wartburg                6:21.3   23:41.50  177   
233  #489 Smith, Gaither      SO Kenyon                  6:21.7   23:42.80  178   
234  #342 Anderson, Nicole    SR Amherst                 6:22.0   23:44.20  179   
235  #885 Best, Sara          SR Tcnj                    6:22.1   23:44.28  180   
236  #452 Halloran, Lisa      SR Geneseo State           6:22.5   23:45.74  181   
237  #476 O'Grady, Mary       JR Johns Hopkins           6:22.6   23:46.14  182   
238  #433 Kosta, Beth         SO Dickinson               6:22.7   23:46.74  183   
239  #396 McLean, Lacey       FR C-M-S                   6:23.0   23:47.84  184   
240  #892 Ullmeyer, Nicole    JR Tcnj                    6:23.2   23:48.48  185   
241  #343 Dalton, Liz         SR Amherst                 6:23.4   23:49.19  186   
242  #356 Crary, Janelle      SO Bethel (Minn.)          6:24.2   23:52.40  187   
243  #846 Ouellet, Nicky      SR Oberlin                 6:24.5   23:53.42        
244  #818 Long, Courtney      FR Messiah                 6:24.6   23:53.72  188   
245  #472 Ortiz, Catherine    SO Ithaca                  6:24.6   23:53.80  189   
246  #455 Legere, Samantha    FR Geneseo State           6:24.7   23:54.11  190   
247  #953 Vietmeier, Hannah   JR Willamette              6:24.9   23:54.74  191   
248  #870 St. John, Hillary   JR St. Lawrence            6:25.0   23:55.13  192   
249  #409 Taska, Hannah       SR Colby                   6:25.6   23:57.55  193   
250  #922 Bickel, Allison     JR Washington U.           6:25.8   23:58.19  194   
251  #969 Lutz, Ellie         SR Wis.-Eau Claire         6:25.9   23:58.70  195   
252  #916 Sigmund, Laura      FR Wartburg                6:26.2   23:59.83  196   
253  #984 Brooks, Janelle     FR Wis.-Oshkosh            6:26.4   24:00.29  197   
254  #948 Maki, Ali           SR Willamette              6:27.3   24:03.94  198   
255  #863 Bisaccio, Lyndsay   SR St. Lawrence            6:27.5   24:04.52  199   
256  #486 Metzger, Lauren     SO Kenyon                  6:27.7   24:05.38  200   
257  #443 Campbell, Colleen   FR Emory                   6:28.1   24:06.86  201   
258  #862 Atwood, Elizabeth   SO St. Lawrence            6:28.7   24:09.17  202   
259  #400 Scott, Ashley       SO C-M-S                   6:28.8   24:09.39  203   
260  #897 Gearing, Jayde      SR Trinity (Tex.)          6:28.8   24:09.50  204   
261  #990 Moeller, Haley      FR Wis.-Oshkosh            6:28.8   24:09.53  205   
262  #382 Bowhers, Kristen    SR Case Western            6:29.5   24:12.15  206   
263  #819 Potekhina, Inna     JR Messiah                 6:30.1   24:14.28  207   
264  #347 Schalch, Eliza      FR Amherst                 6:30.2   24:14.43  208   
265  #358 Jelen, Kayla        SO Bethel (Minn.)          6:30.3   24:15.01  209   
266  #849 Eland, Kayla        FR Pomona-Pitzer           6:31.0   24:17.51  210   
267  #444 Fenn, Natalie       SO Emory                   6:31.3   24:18.66  211   
268  #848 Chestler, Shelley   FR Pomona-Pitzer           6:31.7   24:20.35  212   
269  #468 DeLong, Elizabeth   JR Ithaca                  6:32.0   24:21.41  213   
270  #812 Airey, Brooke       FR Messiah                 6:32.4   24:22.72  214   
271  #346 McKenna, Shannon    FR Amherst                 6:32.6   24:23.65  215   
272  #962 Tedeschi, Gillian   SR Williams                6:33.6   24:27.22  216   
273  #483 Dougherty, Kat      FR Kenyon                  6:34.5   24:30.53  217   
274  #479 Valerio, Christina  SO Johns Hopkins           6:35.2   24:33.35  218   
275  #974 Woodford, Molly     SO Wis.-Eau Claire         6:39.4   24:49.02  219   
276  #369 Koster, Jessica     JR Calvin                  6:40.8   24:54.15  220   
277  #813 Clemmer, Sarah      JR Messiah                 6:47.6   25:19.61  221   
278  #896 Frost, Liz          SO Trinity (Tex.)          7:02.2   26:13.83  222   
279  #360 Pedro, Rebecca      SO Bethel (Minn.)          7:14.6   27:00.31  223   
                                                                                  
                                   Team Scores                                    
================================================================================= 
Rank Team                      Total    1    2    3    4    5   *6   *7   *8   *9 
================================================================================= 
   1 Middlebury                  179    5   25   36   51   62   73  105           
      Total Time:  1:49:57.61                                                     
         Average:    21:59.53                                                     
   2 Calvin                      237   11   27   57   59   83  134  220           
      Total Time:  1:50:54.50                                                     
         Average:    22:10.90                                                     
   3 Williams                    240    9   43   48   52   88   93  216           
      Total Time:  1:50:53.54                                                     
         Average:    22:10.71                                                     
   4 Wartburg                    284   14   45   53   78   94  177  196           
      Total Time:  1:51:32.59                                                     
         Average:    22:18.52                                                     
   5 Wis.-Eau Claire             310   16   35   63   97   99  195  219           
      Total Time:  1:51:53.21                                                     
         Average:    22:22.65                                                     
   6 Trinity (Tex.)              317    8   33   40  104  132  204  222           
      Total Time:  1:51:47.97                                                     
         Average:    22:21.60                                                     
   7 Luther                      330    7   61   66   90  106  136  170           
      Total Time:  1:52:07.01                                                     
         Average:    22:25.41                                                     
   8 Wis.-La Crosse              342   28   46   74   96   98  121  154           
      Total Time:  1:52:31.13                                                     
         Average:    22:30.23                                                     
   9 Cortland State              351   19   77   79   87   89  123                
      Total Time:  1:52:16.48                                                     
         Average:    22:27.30                                                     
  10 Mit                         354   34   70   72   76  102  122  141           
      Total Time:  1:52:46.71                                                     
         Average:    22:33.35                                                     
  11 Geneseo State               369   29   30   56   82  172  181  190           
      Total Time:  1:52:39.60                                                     
         Average:    22:31.92                                                     
  12 Washington U.               371   20   54   64  109  124  130  194           
      Total Time:  1:52:28.46                                                     
         Average:    22:29.70                                                     
  13 Johns Hopkins               381   21   26   91  114  129  182  218           
      Total Time:  1:52:26.93                                                     
         Average:    22:29.39                                                     
  14 St. Thomas (Minn.)          383    6   60   85  107  125  153  163           
      Total Time:  1:52:31.46                                                     
         Average:    22:30.30                                                     
  15 Willamette                  395    4   49   86  108  148  191  198           
      Total Time:  1:52:17.98                                                     
         Average:    22:27.60                                                     
  16 Case Western                402   18   22   80  117  165  168  206           
      Total Time:  1:52:26.41                                                     
         Average:    22:29.29                                                     
  17 Colby                       403   23   31   50  140  159  174  193           
      Total Time:  1:52:44.08                                                     
         Average:    22:32.82                                                     
  18 Wis.-Oshkosh                405    3   24  100  127  151  197  205           
      Total Time:  1:52:12.05                                                     
         Average:    22:26.41                                                     
  19 Bethel (Minn.)              406    1   58   65   95  187  209  223           
      Total Time:  1:52:20.92                                                     
         Average:    22:28.19                                                     
  20 Claremont-Mudd-Scripps      434   32   42   81  119  160  184  203           
      Total Time:  1:53:19.59                                                     
         Average:    22:39.92                                                     
  21 St. Lawrence                459   10   37   44  176  192  199  202           
      Total Time:  1:53:24.80                                                     
         Average:    22:40.96                                                     
  22 Pomona-Pitzer               462   12   55   84  142  169  210  212           
      Total Time:  1:53:25.18                                                     
         Average:    22:41.04                                                     
  23 Carleton                    471   38   39  111  138  145  149  167           
      Total Time:  1:53:47.59                                                     
         Average:    22:45.52                                                     
  24 Emory                       488   69   71   75  116  157  201  211           
      Total Time:  1:54:13.22                                                     
         Average:    22:50.65                                                     
  25 Wheaton (Ill.)              500   41   92  110  118  139  143  158           
      Total Time:  1:54:11.30                                                     
         Average:    22:50.26                                                     
  26 DePauw                      528   17  113  128  133  137  144  150           
      Total Time:  1:54:12.09                                                     
         Average:    22:50.42                                                     
  27 Tcnj                        529   15   68  126  147  173  180  185           
      Total Time:  1:54:16.07                                                     
         Average:    22:51.22                                                     
  28 Amherst                     569    2   47  155  179  186  208  215           
      Total Time:  1:54:02.10                                                     
         Average:    22:48.42                                                     
  29 Ithaca                      599   13  101  146  164  175  189  213           
      Total Time:  1:54:57.60                                                     
         Average:    22:59.52                                                     
  30 Dickinson                   631   67  112  135  156  161  171  183           
      Total Time:  1:55:35.43                                                     
         Average:    23:07.09                                                     
  31 Kenyon                      761  103  152  162  166  178  200  217           
      Total Time:  1:56:55.23                                                     
         Average:    23:23.05                                                     
  31 Messiah                     761  115  120  131  188  207  214  221           
      Total Time:  1:57:21.86                                                     
         Average:    23:28.38                                                     


Back