Tigers Drop to 0-2 Following Loss at Wabash
November 22, 2008
November 22, 2008, Crawfordsville, Ind. - DePauw trimmed Wabash's 12-point lead to two in the closing minutes, but the Little Giants held on for a 57-52 win. DePauw dropped to 0-2 with the loss, while Wabash improved to 1-1.
The Tigers jumped out to an early six-point lead before the Little Giants used a 12-2 run to take a 23-19 advantage. DePauw closed the gap back to one, but Wabash scored the final eight points over the last four minutes of the half to take a 31-22 lead at the break.
That margin reached as many as 12 on a couple of occasions early in the half with the last coming at 39-27 with just over 14 minutes remaining. DePauw whittled the lead down to single digits and got as close as 47-45 on Ryan Sever's three-point play with 4:01 left which came just seconds after Sever took a charge on the other end.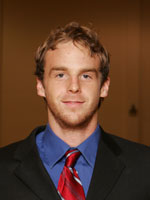 Andrew Gillman hit two free throws, while Wes Smith added a bucket and Chase Haltom hit a pair of free throws to make it 53-45 with 1:11 left. Sever hit delivered another three-point play and Mike Moore (pictured above, left) added a layup with 37.9 seconds left to close the Wabash lead to 53-50.
Dominique Thomas hit two free throws with 34.8 seconds left and DePauw's Tom Callen (pictured above right) nailed a pair with 22.1 seconds remaining to make it 55-52. Wabash's Aaron Brock connected on one of two free throws with 11.9 seconds left and Callen's three wouldn't go down. Thomas added a free throw with just over two seconds left for the game's final point.
Callen and Moore each scored 14 to lead the Tigers, while Callen added 12 rebounds for the double-double and a spot on the all-tournament team. With his basket with 15:40 left, Moore became the 23rd player in school history to reach the 1,000-point plateau.
Smith led Wabash with 21 and scored the Little Giants' first 10 points. Brock and Haltom each added 11 with Brock grabbing 12 boards for a double-double. Thomas followed with 10 points.
The Tigers hit just 34.6 percent from the floor, while Wabash connected on 39.2 percent. Each team grabbed 35 rebounds, but DePauw committed 20 turnovers.
DePauw hosts Earlham on Saturday, November 29 at 6 p.m. in the opening game of the Tigers' Mike Rokicki Community Versus Cancer Challenge. Defiance and Ohio Northern square off in the 8 p.m. game. Sunday's games are scheduled for 2 and 4 p.m.
Back