Tigers Face Colonels in Battle of Nationally-ranked Teams
February 12, 2009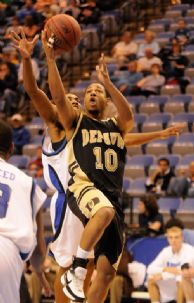 February 12, 2009, Memphis, Tenn. — In a battle of nationally-ranked teams, 22nd-ranked DePauw travels to Danville, Ky., on Saturday, February 14, where it will take on 23rd-ranked Centre in a Southern Collegiate Athletic Conference contest. Tipoff from Alumni Gymnasium at Centre College is set for 1 p.m.
DePauw enters the contest with a 17-5 overall record and a 9-2 conference mark, while the Colonels are 17-4 and also 9-2 in SCAC play. The Tigers have won 12 of their last 13 after starting the season with a 5-4 record. Both teams are ranked in the latest NCAA Division III regional rankings as DePauw is sixth in the South Region and Centre is seventh.
The Tigers are coming off last Sunday's 82-63 win at Rhodes, while Centre picked up a road win against Birmingham-Southern by a 56-44 score last Sunday.
DePauw won the January 4 meeting between the two schools by a 78-74 score.
Saturday's game can be heard live on WGRE (91.5FM) with a complete set of DePauw game notes available for download.
Back