17th-ranked DePauw Advances to SCAC Semifinal for Seventh Straight Time
February 27, 2009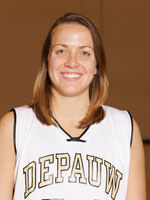 February 27, 2009, Conway, Ark. — Andrea Travelstead (pictured) scored a career-high 15 and grabbed 10 rebounds and led 17th-ranked DePauw to a 70-52 Southern Collegiate Athletic Conference quarterfinal win over host Hendrix.
The Tigers improved to 22-4 with the win and advanced to Saturday's 1 p.m. CST semifinal game against Trinity which topped Rhodes 81-60 in today's first quarterfinal. Hendrix wrapped up its season at 14-12 with the loss.
DePauw led by as many as 12 midway through the first half before Hendrix closed to within four. The Tigers took a 35-27 lead into the intermission.
The Tigers pushed the second-half lead to 15 with just under 10 minutes remaining, but the Warriors scored six straight to start a 12-2 run which cut the lead to 56-51 with over four minutes left.
Katie Aldrich hit two free throws before Brooke Osborne nailed a jumper and Cassie Pruzin hit a free throw to extend the lead back to 61-51 with less than two minutes left.
In addition to Travelstead's 15, Aldrich scored 13 and Osborne finished with 10. Emily Marshall grabbed a game-high 15 rebounds as the Tigers held a 46-38 edge on the boards. Brianna Frigerio led the Tigers with five assists.
Christina Byler led Hendrix with 21 points and nine rebounds followed by Samantha Clark with 12. Amanda Morris dished four assists.
The Tigers shot 34.2 percent from the field, while the Warriors connected on 31.6 percent from the floor. DePauw committed just 10 turnovers and held a 36-11 edge in points off the bench.
Back